The Benefits of Sealing Stamped Concrete
Stamped concrete provides an attractive complement to any home and outdoor landscape. Stamped surfaces provide durability, better wear resistance, and less maintenance for homeowners when compared to the standard broom finished concrete surface.
If you are a homeowner with a stamped concrete driveway, pool deck, patio, or walkway you are well aware that a stamped surface will lose that beautiful looking luster over time. Surface sealants that once enhanced the appearance of your stamped concrete have now begun to degrade, turning the color and overall surface appearance dull.
If the gloss and color have faded due to time or lack-of maintenance, a stamped surface can often be restored to its original state by cleaning and resealing. Applying a concrete sealer on outdoor concrete surfaces provides several important benefits:
Blocks the penetration of stains, oil, deicing chemicals and other contaminants.
Protects stamped concrete surfaces from abrasion and wear.
Easier to clean and maintain.
Reduces mold and organic growth.
Enriches the color intensity of stamped concrete, whether the color is integral or provided by a dry-shake hardener, and antiquing release.
Adds sheen to the surface, ranging from satin-to-high gloss.
Adds resistance against freeze-thaw.
Needless to say, protecting your stamped surface by resealing the concrete should not be ignored!
When Stamped Concrete Turns Dull
The use of an acrylic sealer is a popular choice for decorative outdoor concrete because they are UV resistant, enhance the appearance by forming a high-gloss, "wet look" and are highly water-repellent. Acrylic sealants can be readily purchased from local hardware stores, and are relatively easy to apply.
The disadvantages of using acrylic concrete sealers are that they are soft, less durable, susceptible to hot-tire pickup, and have a short lifespan. Depending upon climate and the amount of surface traffic, acrylic-based sealers can wear away quickly, unevenly. This exposes the surface to tannin stains, freeze-thaw, oil slicks, deicing chemicals, leaf stains, and road salts. All of which will slowly degrade the color and overall appearance of your stamped concrete surface.
When reapplication of the sealant is ignored, the glossy surface appearance will turn spotty and dull. If a concrete stain was applied to refresh a color, the susceptibility of the stain peeling becomes much greater. Thus, making the biennial application of a sealant crucial for the continued protection, luster, and aesthetic of the surface.
Resealing Stamped Concrete
With the dizzying amount of concrete sealers on the market choosing one can seem difficult, but chemically your options for sealing outdoor stamped concrete are limited. Sealers generally fall into two categories, topical and penetrating.
Topical Sealers
Formulated to coat the surface (high-solids), forming a high-gloss and highly water-repellent barrier on the surface. Used for tighter surfaces, exposed aggregate concrete, acid-stained or colored concrete, and compacted stamped surfaces.
Acrylic-based sealers are commonly used outdoors, polyurethane and epoxy are predominantly used indoors. Topical sealers are not reliant upon the porosity of a surface.
Improper reapplication of a topical sealer can lead to delamination or blushing. There is also potential for creating a slippery surface when reapplied on pool decks, pool copings, and stamped concrete stairs. Slip-resistant additives can be mixed into the sealer to create grip, but a wet surface combined with overnight freezing temperatures can still cause ice slicks to develop. Review of Chemical Concrete Sealers. 
Penetrating Sealers
Lower-viscosity penetrating-type sealers work by being absorbed by the concrete, filling the pores and capillaries below the surface (literally "drinking up" the sealer). Their use, application, and performance rely heavily upon proper surface porosity. Penetrating sealers are not intended to change surface friction or overall appearance after their application, but can when absorption is dramatically impeded.
There are advantages that certain types of penetrating sealers have over topical sealers such as longer-lasting, less reapplication, chemically resistant, ability to bond and strengthen concrete, non-slip, and some being paintable. However, many penetrating sealers are not suitable for stamped concrete surfaces.
Using LastiSeal on Stamped Concrete
Stamped surfaces are compacted, often described as being smooth or tight, and will inherently repel a penetrating sealer from, penetrating! Also, due to the varying amounts of release agents contractors use to prevent stamping mats from adhering to the concrete, the overuse of these agents can potentially inhibit the sealers from fully absorbing into the concrete.
Not all concrete is created equal and surface porosity does vary which will greatly influence the type of sealer you can use in the end. If the concrete is old, weathered, and the sealer that was once applied has worn down due to extensive neglect or was removed by a contractor who has been hired to restore the appearance of the surface, using LastiSeal Brick & Concrete Sealer – SATIN will be your best choice!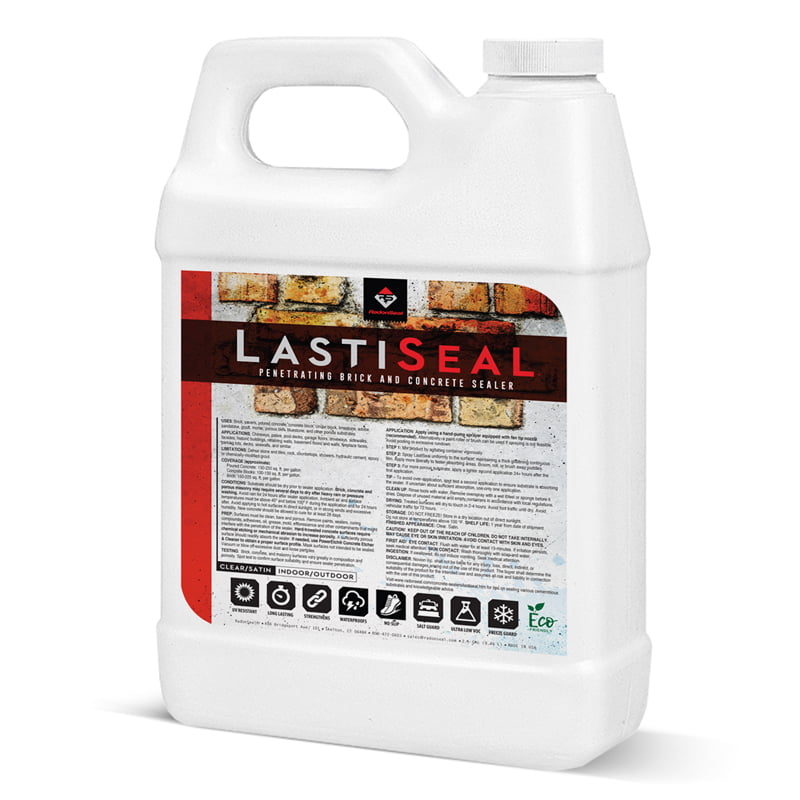 LastiSeal Satin is a polyester-polyurethane-based sealant, enriched with acrylic polymers that can be used to enhance the surface's dull appearance and provide a long-lasting waterproofing seal. LastiSeal is used on a wide variety of porous building materials; brick, concrete, pavers, grout, porous stone, limestone, porous stone, but not excluding sufficiently porous stamped concrete surfaces.
Due to the sealer's small molecular size (polyester-polyurethane), LastiSeal more reliably penetrates tighter surfaces compared to other penetrating chemical sealers. This characteristic makes LastiSeal ideal for use on colored concrete, around pool decks, copings, stamped concrete driveways, patios, and high-vehicular and foot areas..
Best Sealer for Outdoor Stamped Concrete
Most often, the reapplication of the same chemical that was initially applied to the surface, will be the easiest route to take (commonly acrylic). Any brand of acrylic sealant will do!
As outdoor concrete ages and it inherently becomes more porous. If your stamped concrete is suitable for LastiSeal to be applied, the benefits of LastiSeal far outweigh having to reapply an acrylic sealer every other year!
To reiterate, due to the variances in chemical release agent used and overall surface porosity, it is always best to test LastiSeal on stamped surfaces before applying to the whole area. Testing will save your time and money and will ensure the surface suitability and performance of the sealer!