The Homeowners Guide to Chimney Sealers
If you have a chimney, it's important to take steps to protect and maintain it. The single most important and cost-effective way to do this is by applying a high-quality chimney sealer. But with so many different sealers on the market, how do you know which one is the best? Will any sealer work?
Chimneys are designed to safely vent harmful byproducts of combustion away from the living spaces of a structure. In addition to their practical function, a chimney also serves as a decorative element that adds visual interest and character to a home or building.
Unfortunately, repeated exposure to wind-driven rain, freeze-thaw cycles, and UV rays takes its toll. Whether your chimney is made from clay brick, concrete block, or cultured stone, it will eventually become dull, stained by mold and efflorescence, and mortar joints will begin to separate and crumble. Water will work its way deeper and deeper into your chimney until it reaches the inside of your house.
The Benefits of Sealing Your Chimney
If you are reading this article, you have likely already concluded that sealing your chimney is a good idea. However, just in case you needed a little bit more convincing, here are several reasons why sealing your chimney is a wise decision.
To prevent water damage: Water can seep through the blocks, bricks, and mortar of a chimney and into your home, causing damage to the structure. Water penetration can lead to costly chimney repairs and even compromise the safety of your home.
To extend the life of your chimney: Water damage can weaken the bricks and mortar of your chimney, leading to premature deterioration. A good sealer can preserve and protect your masonry, adding years of life.
To reduce maintenance and staining: Pressure washing a chimney to clean and remove stains is a real pain, especially when you need a ladder to reach higher areas. Sealing the chimney will provide stain protection and make routine cleanings a thing of the past. Save time and money by using a long-lasting, durable sealer.
To maintain the value of your home: A well-maintained brick chimney can add value to your home. Curb appeal matters! By sealing your brick chimney against water, efflorescence, and molds, you can help maintain its value and protect your investment.
To prevent mold and mildew growth: Water that gets into your brick chimney can lead to the growth of mold and mildew, not only on the chimney itself but inside your home on sheetrock and framing.
To save money on repairs: According to the Chimney Safety Institute of America, repairing a leaking chimney will cost you between $700 – $15,000. Being proactive and sealing your chimney before problems occur is a great way to avoid spending money down the road.
Why Chimneys Leak Water
There are several reasons why a chimney may leak water. Some common causes of chimney leaks include:
Damage to the chimney structure: Chimneys can become damaged due to age, weathering, or improper installation, which can lead to leaks. Cracks, missing bricks or mortar, and other types of damage can allow water to enter the chimney.
Poor flashing: Flashing seals the joint between the chimney and the roof. If the flashing is damaged or improperly installed, it can allow water to leak into your house.
Clogged gutters: If the gutters around the chimney are clogged or not functioning properly, water can overflow and leak into the chimney.
Chimney cap or crown problems: The chimney cap or crown sits at the top of the chimney and helps to protect it from the elements. If the cap or crown is damaged or missing, water can leak into the chimney.
Porous building materials: Brick, block, stucco, and many forms of stone (e.g. limestone, sandstone) are porous. They naturally absorb rain and sprinkler water. During periods of heavy rain or wind-driven rain, water can pass right through the chimney and into your house.
By identifying and addressing the root cause of the leak, you can fix a leaking chimney and prevent further damage.
Factors to Consider Before Choosing a Sealer
There is no single sealer that can be considered "best" for all chimneys. What is best for your chimney may not be best for your neighbors or someone in another part of the country. Before picking a sealer, there are several factors to consider to ensure that you get the best product for your needs. These factors include:
The type of chimney: Chimneys can be made from a wide variety of materials, including brick, stone, block, or stucco. Be sure the sealer you choose is suitable for your chimney. For example, some chimney brick sealers are not suitable for stone chimneys.
The condition of your chimney: An honest assessment of your chimney is an essential preliminary step. If your chimney has cracked mortar joints, spalling brick faces, or other damage, you must do the repairs before applying a sealer. Sealers cannot fill cracks, gaps, or holes and may not be the solution to your chimney water issues.
The type of finish you want: Chimney sealers come in a variety of finishes, including a glossy, matte, and wet look. Consider the look you want for your chimney and choose a sealer that offers the finish you desire. However, it is important to remember that decorative coatings do not provide the best protection. Do not sacrifice protection for looks.
The weather conditions in your area: The environmental conditions in your area can play a role in determining the type of sealer you use. For example, if you live in an area that sees cold winters and your chimney is routinely exposed to freeze-thaw cycles, ensure the sealer can withstand those conditions.
Your budget: Different sealers can vary in price, so be sure to consider your budget when deciding. Choose a sealer that offers the protection you need at a price that fits your budget. You should expect a cost of $0.13 – $0.26 per square foot in materials. Fortunately, most chimney sealers are easy to apply (*if water-based) and do not require special equipment or tools, making application quick and easy.
What to Look for in a Chimney Sealer
Choosing a chimney sealer is a bit different than choosing a driveway sealer or basement sealer.
Durability: A good chimney sealer should be able to withstand harsh weather conditions and resist peeling, cracking, or fading over time.
Water resistance: The primary purpose of a chimney sealer is to prevent water from entering and damaging the chimney. Look for a sealer that is specifically formulated to repel water and keep your chimney dry.
Ease of application: Applying the sealer to your chimney should be easy, with clear instructions and preferably a user-friendly applicator.
Compatibility: Chimneys can be made from a wide variety of materials, including brick, stone, block, or stucco. Be sure the sealer you choose is suitable for you. For example, some chimney brick sealers are not suitable for stone chimneys.
Environmental impact: Some sealers may contain chemicals that can have negative environmental impacts. Consider choosing a sealer that is eco-friendly and safe for use around plants and wildlife.
By considering these factors, you can find a good chimney sealer that meets your needs and provides effective protection for your chimney.
BEST OVERALL CHIMNEY SEALER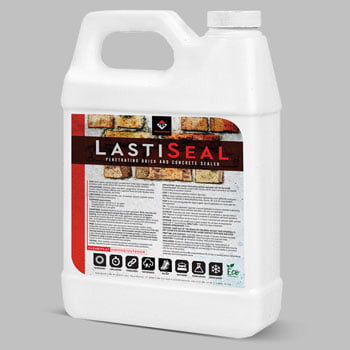 LastiSeal is the top-performing chimney sealer. If your chimney is built of porous materials like brick, concrete block, stucco, manufactured stone, or limestone, then there is no better choice. Not only is LastiSeal the longest-lasting chimney sealer available, but it is backed by a 15-year waterproofing warranty. In addition to its superior waterproofing capabilities, LastiSeal actually hardens the substrate – it's like filling the pores with epoxy. So strengthen and waterproof your chimney in one simple step.
PROS: Incredibly versatile. Breathable. Leaves a natural finish. Unbeatable 15-year waterproofing warranty. A water-based, non-toxic formula that's easy to apply. People, plants, and pets safe. No need to reapply.
CONS: Initial price is high, but considering the 15-year life, in the long run, it's a money saver.
BEST CHIMNEY SEALER FOR HOMEOWNERS ON A BUDGET
Don't let the price fool you, DryWay works like a charm. A penetrating, silane/siloxane water-repellent that forms a hydrophobic barrier below the surface. There are two versions of DryWay to choose from: DryWay or DryWay PLUS. Both provide superb protection, but DryWay PLUS is approved by the US Dept. of Transportation.
Pros: The most affordable penetrating silane/siloxane sealer available. Breathable. Natural finish. Water-based, non-toxic, and with no odor. Easy-to-apply.
Cons: 5-year service on the standard DryWay is ok. You'll need to use the DryWay PLUS to get 10 years.
Pro-Tip: DryWay PLUS is a DOT-approved silane/siloxane sealer with a 10-year service life. Priced a bit higher than the standard DryWay but well worth it, especially if your chimney sees harsh winter weather.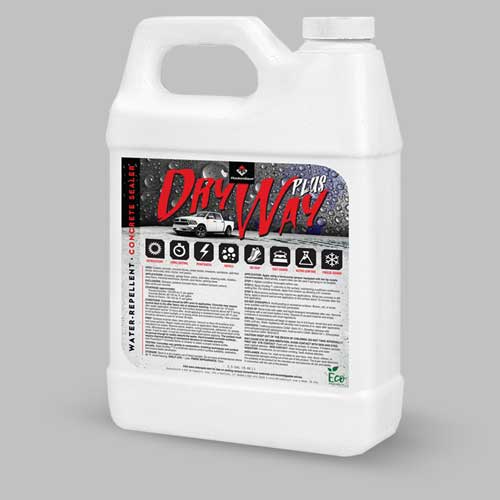 BEST LOW GLOSS CHIMNEY SEALER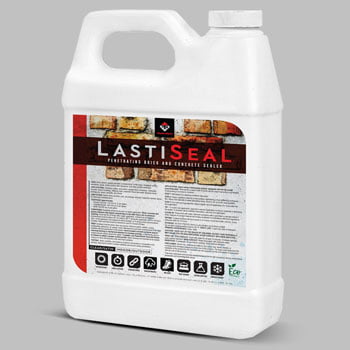 LastiSeal Brick & Concrete Sealer | SATIN
All the benefits of the FLAT LastiSeal Brick & Concrete Sealer, with an attractive, low-gloss finish. A deep-penetrating sealer with a decorative finish built in. Not a high gloss or wet look, but the subtle shine can make your chimney "pop."
PROS: Incredibly versatile. Breathable. Leaves a low-gloss, satin finish. Unbeatable 15-year service life. Utra-low VOCs, non-toxic formula. People, plants, and pets safe.
CONS: Pricy.
LastiSeal SATIN is modified with high-quality acrylic polymers to leave a subtle sheen. A great way to both protect your chimney and add a satin finish.
BEST SEALER OLDER BRICK CHIMNEYS
Chimneys made with repurposed or antique brick, and brick chimneys that have been neglected for many years are prone to spalling and cracking. Because these bricks are usually softer than modern bricks, strengthening them is as important a sealing them. That's where LastiSeal really shines. It penetrates deep below the surface, cures, and hardens (like injecting the pores with epoxy). LastiSeal binds and strengthens the brick and mortar to reduce spalling and can extend the life of the brick
PROS: LastiSeal is the only sealer that can strengthen brick. A must use for older brick 

structures.

CONS: 

Considering

 the alternative is costly repair and brick replacement, this is a win-win.