Keep Your Pavers Looking Good As New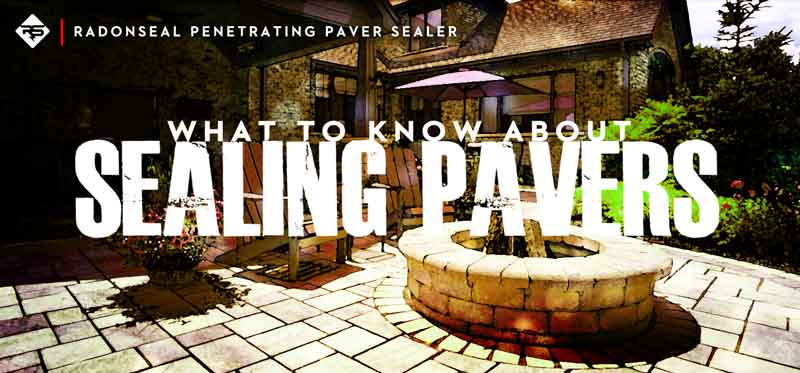 There are certain aspects, nuances, and niches of a home that often conjure feelings of pride in homeownership. Feelings similar to the ones you felt the first days and weeks moving into your new home. Meaningful reminders that homeownership is a privilege and your home is an intimate sanctuary that creates comfort and peace of mind. If you are the outdoorsy type, time spent on your stylish outdoor paver patio while entertaining friends and family, relaxing on a warm summer's day, or under the stars will surely fire up your consciousness!
Therefore, it is not surprising that sales and installation of paving stones in North America is on the rise.
"The 2015 ICPI study of concrete paver manufacturers reported a 14.5% increase in the number of pavers sold in the U.S. and Canada." - ICPI, March 2017
Pavers and hardscapes are known for their ease of installation, durability, and pleasing aesthetic to any landscape, driveway, walkway, and pool area. However, keeping that "good as new" look can often be an annual and laborious task. Lichen, mold and mildew growth, efflorescence, dirt, grime, red clay stains, oil, grease, acid rain, snow, ice, salts, and deicing chemicals will not only dirty the surface, but expedite deterioration. Thus, making annual (or biannual) cleaning necessary! Have you ever pressure-washed a large-scale patio or pool deck constructed of smaller pavers with a low psi pressure washer? If so, then you are well aware of the amount of time, effort, mess, clean-up, and physical toll it can take on your lower back!
Maintenance Costs
If you do not own a pressure-washer than you are stuck having to rent one each season (or every other season). An average cost to rent a gas-powered pressure washer for a day may run you close to $100. If you use chemical cleaners beforehand that can cost an additional $20-$45 per gallon. Not to mention water usage, rags, buckets, brooms, and your time.
Or, are you one to hire a professional pressure-washing company to do the job. If so, pricing can range from $100-$500 depending on square footage. Either way you slice it, when it comes to keeping your personal sanctuary looking like new, the money can add up!
Good news! There is a way to save both time, money, and labor when it comes to maintaining your paver patio, pool deck, walkway, or driveway.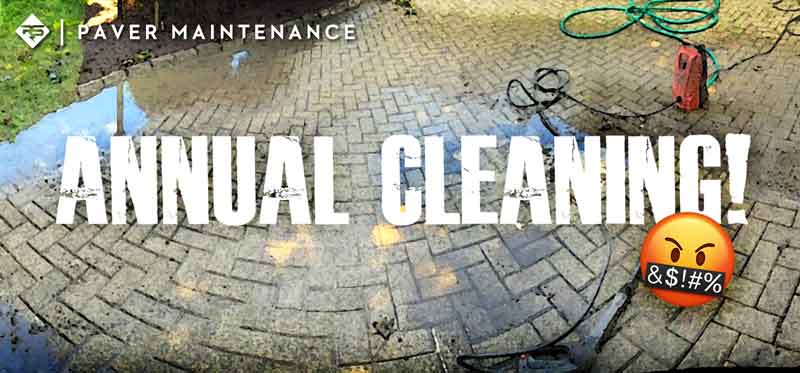 The Importance of Sealing Pavers and Hardscape
Aside from the potential issues with the pavers themselves; shifting, sinking, unevenness, puddling, and shoddy installation are common complaints early on. Sealing pervious hardscape is a common-sense approach to maintaining the aesthetic appeal. Providing the needed protection of surface deterioration due to freeze-thaw, shoveling, deicing chemicals, salts, machines, and acid rain.
Being able to prevent pock marks, efflorescence, salt deposits (white stains) hard-water deposits from irrigation systems, and surface erosion helps protect your investment against expensive repairs or replacement.
When the time comes to choosing a sealer, there is no more ideal product to use than RadonSeal Penetrating Paver Sealer. What makes our sealer the best paver sealer? There are numerous benefits to the product, but we will touch upon four that matters most when it comes to choosing a sealer;
Slip Resistant – RadonSeal Paver Sealer is a water-based sealer, that is formulated to absorb deep inside porous concrete, brick and stone. Sealing the substrate below the surface. Deep penetration matters when surface friction matters. The sealer is inherently slip-resistant! Making it a safe choice when being used on high vehicular-and-foot traffic areas such as, inground pool areas, sidewalks, and driveways where hardscape is commonly used.
Waterproofs Against Deep Water Penetration – Water-permeable pavers allow water to percolate deep inside. Our sealer works by "plugging up" the micro-capillaries, pores, and fractures below the surface. Once cured, a sealed paver will begin to shed surface water protecting the substrate against oil stains, car fluids spills, chlorinated water, hard water stains due to lawn irrigation systems and sprinklers.
The ability to prevent deep water penetration will alleviate efflorescence, salt deposits, calcium buildup, freeze-thaw damage, organic growth, and heavy dirt buildup on the surface. Making the chore of cleaning less time-consuming!
Surfaces Dry Faster – A treated surface will begin to dry out noticeably faster compared to untreated areas! The ability to prevent deep water penetration and increase surface drying time, will be particularly helpful against freeze thaw, road salts, and unsightly efflorescence "white" surface deposits.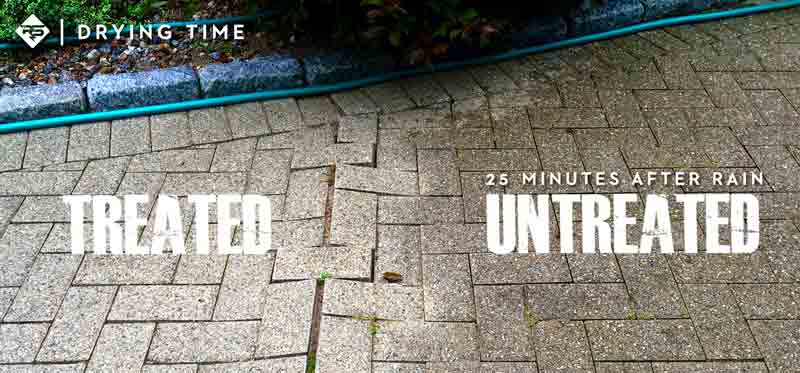 Service Life – Ignoring to seal outdoor concrete surfaces, concrete blocks, brick, and paver surfaces leads to a variety of issues. So it is best to seal and protect your outdoor hardscape when you can! Unlike clear, low-gloss, or high-gloss sealants that require reapplication every couple of years, RadonSeal Paver Sealer has a long lasting service life of up to 10-years!
Not All Pavers Are Created Equal
To reiterate, pavers are known for their durability and when compared with poured concrete slabs, they can hold up better even under extreme inclement weather conditions. They are relatively easy to maintain, but problems still persist! Not all pavers are created equatl and that is why it is important to seal your pavers!
There are many different manufacturers and paver composition varies, but the types of pavers generally fall into three categories; brick, concrete, and natural stone. Shape, texture, and color varies widely amongst each type. One can also incorporate more than one type paver to achieve a particular design. Which paver to choose from greatly depends on the project at hand and obviously, personal taste.
Clay Brick Pavers – The most popular type of paver. Stain and color resistant. Can be installed in a variety of patterns. Easy to install, but commonly more expensive to have installed due to smaller size. Compared to its counterparts, brick pavers are more susceptible to cracking, chipping, and crumbling.
Concrete Pavers – Popular for commercial projects under high vehicular traffic areas. Come in various colors, shapes, and sizes. Have a high compressive strength (8,000 psi) making them less prone to chipping and cracking. Hold up much better against deicing chemicals, and absorb less water (5%) compared to standard concrete (7–9%). Strength and porosity varies amongst manufacturers. Color fades under UV rays and surface traffic.
Stone Pavers – Broad term for different types of stone pavers; limestone, granite, bluestone, slate, and flagstone being popular choices. Natural look makes them popular for outdoor landscapes. Long-lasting. Withstand the most extreme weather conditions. Cracking, pitting, spalling, surface detioration of little concern.
When Sealing Pavers, Porosity Matters
Pavers can also be differentiated between permeable, pervious, and porous. While there is a compositional difference, the terms generally describe materials that allow water to penetrate the surface (important when directing storm water, reducing freeze-thaw). The truth is, surface porosity varies greatly and when it comes to choosing a sealer, porosity matters!
Manufacturing techniques come into play. Chemical additives often used in the mix reduce porosity (e.g., added polymers are used to protect colorant, add strength, and increase density). This can potentially interfere with the absorption of a penetrating sealer. Causing the sealer to build-up on the surface, change friction, and potentially appearance.
When a penetrating sealer is unable to be used, there are other options to choose from. High gloss finish sealers, topical-type membrane coatings can be used; acrylic, polyurethanes, clear epoxy, and waxes. Not all these sealer options are suitable however! There is more upkeep and need to reapply clear topical sealants.
Knowing the type of pavers you have is crucial when selecting a sealer. Certain surface are inherently more accepting of RadonSeal Paver Sealer than others, which include:
You can review our Sealer Guide for quick reference, but knowing the type of pavers will help answer such an open-ended question. Certain pavers are inherently more accepting of LastiSeal than others, which include:
Brick
Concrete
Limestone
Sandstone
Travertine
Adobe
Mexican (unglazed)
Bluestone
Lannon
Pavers that often vary in surface porosity:
Marble
Flagstone
Fieldstone
Granite
Seal Your Pavers Today and Save Tomorrow
Sealing your paver driveway, pool deck, paver walkway, or fire pit may not be high on your home maintenance list, but it should be mentally noted! The potential issues with the pavers themselves; shifting, sinking, unevenness, puddling, and shoddy installation are common complaints early on.
If you were fortunate enough to purchase a home with a paver area already installed know that paver installation is not cheap! Problems eventually will arise and although they may not be present early on, they can be expected.
Applying RadonSeal Paver Sealer to your pavers is an easy and a relatively inexpensive solution to protecting your investment for years to come. It does not take a lot of common sense to know that by sealing out the elements and improving strength, your personal paver sanctuary will keep looking "good as new" for years to come!