When it comes to maintaining the appearance and longevity of your paver patio, driveway, or hardscaping, choosing the best paver sealer is crucial. As a homeowner, you have a lot on your plate. With so many tasks and responsibilities to juggle, it's natural to wonder if sealing your pavers is worth the time and effort. In this article, we'll explore the benefits of sealing pavers, provide recommendations on the best paver sealer, and help you decide if sealing pavers is a worthwhile investment for your home.
Pavers are an excellent choice for a patio, pool deck, driveway, or hardscaping in general. They are highly customizable, with a wide variety of colors, styles, and patterns to choose from, making it easy to create an outdoor space that perfectly complements the style of your home. It's not surprising that sales and installation of paving stones in North America are on the rise.
"The ICPI surveys contractors annually and found that between 2020 and 2021, there was a 27 percent average growth in sales. The awareness and use of concrete pavers, paving slabs, and permeable interlocking concrete pavement continues to grow" – World Of Concrete
The Importance of Sealing Pavers and Hardscape
Sealing your pavers is an essential part of maintaining the beauty and integrity of your outdoor surfaces. Whether you have a patio, walkway, driveway, or pool deck made of pavers, sealing them can provide a number of benefits that will help protect your investment and enhance the overall appearance of your home.
Protect against staining: Sealing your pavers will help protect them from stains caused by grease, BBQs, wine, and other spills. This can help maintain the appearance of your pavers and make them easier to clean.
Prevent fading: Exposure to the sun and other elements can cause pavers to fade over time. Sealing your pavers can help prevent this fading, which can help maintain the overall aesthetic of your outdoor space.
Decreased Drying Time: Properly sealed pavers do not allow water to absorb inside them. This significantly reduces drain time. Pavers that dry more quickly, are much less likely to support mold and algae growth or develop efflorescence.
Increase durability

: Sealing pavers can help protect them from damage caused by freeze-thaw cycles, salt, and other environmental factors. This can help extend their life and save you money on costly repairs or replacements.

Increase resale value: Well-maintained pavers can add value to your home and make it more attractive to potential buyers. Sealing your pavers is one way to help ensure they are in good condition, which can increase the resale value of your home.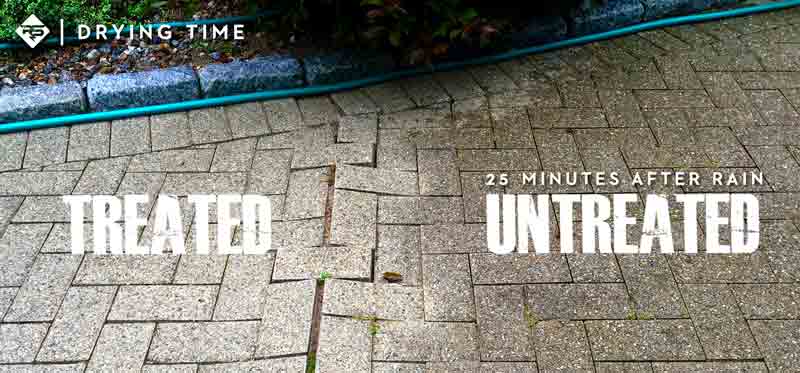 Maintenance Costs
Pavers and hardscapes are known for their ease of installation, durability, and pleasing aesthetic to any landscape, driveway, walkway, and pool area. However, keeping that "good as new" look can often be an annual and laborious task. Lichen, mold and mildew growth, efflorescence, dirt, grime, red clay stains, oil, grease, acid rain, snow, ice, salts, and deicing chemicals will not only dirty the surface, but expedite deterioration. This makes frequent cleaning necessary. Have you ever pressure-washed a large-scale patio or pool deck constructed of smaller pavers with a low psi pressure washer? If so, then you are well aware of the amount of time, effort, mess, clean-up, and physical toll it can take on your lower back!
If you do not own a pressure washer, you are stuck having to rent one each season (or every other season). The average cost to rent a gas-powered pressure washer for a day will run you close to $100. If you use chemical cleaners beforehand that can cost an additional $20-$45 per gallon. Not to mention water usage, rags, buckets, brooms, and your time.
Or, are you one to hire a professional pressure washing company to do the job? If so, pricing can range from $100-$500 depending on square footage. Either way you slice it, when it comes to keeping your personal sanctuary looking like new, the money can add up!
Good news! There is a way to save time, money, and labor when it comes to maintaining your paver patio, pool deck, walkway, or driveway.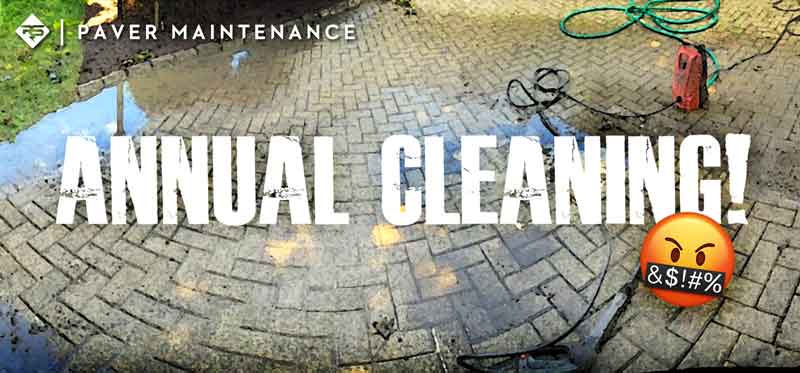 What to Look for in a Paver Sealer
There are several types of paver sealers on the market. When the time comes to choosing the best paver sealer, there are several things to look for. Be sure that the product you choose offers the following: 
Slip Resistance: Sealing your pavers should not increase the risk of slips and falls. Avoid topical sealers for patios, pool decks, and driveways. Wet-look paver sealers and high-gloss paver sealers, for example, form a thin coating which is very slippery when the paver is wet. Instead, choose a penetrating sealer that soaks into the paver and seal it inside. Penetrating sealers do not make surfaces slippery.
Durability: Sealing pavers and other masonry is not something that should be done frequently. If you choose a good sealer, your pavers will be protected for many years. When it comes to durability, a penetrating sealer is clearly the optimal choice.  Topical sealers, wet-look sealers, and high-gloss sealers cannot stand up to heavy traffic. The coating quickly wears away, leaving your pavers vulnerable. 
UV Resistance: Paver patios and hardscaping are exposed to the sun's damaging UV rays. When choosing a paver sealer, be sure that the sealer can tolerate sun exposure. Acrylic sealers are particularly vulnerable to UV rays. Although many brands say that they are "non-yellowing", this is not an impressive claim! You should expect any sealer designed for outdoor use not to turn yellow. UV rays will cause acrylic to break down and become dull because acrylic is not UV resistant.
Easy Application: The days of debating water-based vs. solvent-based paver sealers are a thing of the past. Sealer chemistry has advanced to the point that solvent-based sealers no longer provide a real advantage over water-based sealers. Why bother messing with highly flammable pavers sealers that require special equipment and safety precautions? Water-based sealers are not flammable, have no odor, and are safe for people, plants, and pets.
Choose from the Best Paver Sealers Available
We've done the hard work for you! After 25 years of manufacturing concrete and masonry sealers, we understand that performance is king. Our sealers for patio pavers, driveways, and pool decks, offer high-performance, at an affordable price. Choose from the sealers below to ensure that you are doing the best you can to protect and preserve your hardscaping.
A unique blend of polyurethane & polyester polymers that penetrate 2 inches into the paver. LastiSeal cures hard deep inside the pores binding and strengthening the paver internally – like filling the pores with epoxy.
UV Resistant
Natural Finish (FLAT) *also available in a semi-gloss SATIN finish
Non-Slip
Water-Based
Easy, Spray-on Application
15-Year Life Expectancy
Excellent Salt Protection
An industrial-strength blend of silane and siloxane in proprietary surfactants designed specifically for pavers. The sealer cures to form a hydrophobic membrane below the surface.
UV Resistant
Natural/Matte Finish (FLAT)
Non-Slip
Water-Based
Easy, Spray-on Application
10-Year Life Expectancy
Excellent Salt Protection
Not All Pavers Are Created Equal
Pavers are known for their durability and when compared with poured concrete slabs, they can hold up better even under extreme inclement weather conditions. They are relatively easy to maintain, but not all pavers are created equal and problems still persist! 
There are many different manufacturers and paver composition varies. The types of pavers generally fall into three categories; brick, concrete, and natural stone. Shape, texture, and color vary widely amongst each type. One can also incorporate more than one type of paver to achieve a particular design. Which paver to choose from greatly depends on the project at hand and, personal taste, and budget.
Clay Brick Pavers – The most popular type of paver. Stain and color resistant. Can be installed in a variety of patterns. Easy to install, but commonly more expensive to have installed due to smaller size. Compared to their counterparts, brick pavers are more susceptible to cracking, chipping, and crumbling.
Concrete Pavers – Popular for commercial projects under high vehicular traffic areas. Come in various colors, shapes, and sizes. Have a high compressive strength (8,000 psi) making them less prone to chipping and cracking. Hold up much better against deicing chemicals, and absorb less water (5%) compared to standard concrete (7–9%). Strength and porosity vary amongst manufacturers. Color fades under UV rays and surface traffic.
Stone Pavers – Broad term for different types of stone pavers; limestone, granite, bluestone, slate, and flagstone are popular choices. The natural look makes them popular for outdoor landscapes. Withstand the most extreme weather conditions. Cracking, pitting, spalling, and surface deterioration are of little concern.
When Using A Paver Sealer, Porosity Matters
Pavers can also be differentiated between permeable, pervious, and porous. While there is a compositional difference, the terms generally describe materials that allow water to penetrate the surface (important when directing stormwater, reducing freeze-thaw). The truth is, surface porosity varies greatly, and when it comes to choosing a sealer, porosity matters!
Manufacturing techniques come into play. Chemical additives often used in the mix reduce porosity (e.g., added polymers are used to protect colorants, add strength, and increase density). This can potentially interfere with the absorption of a penetrating sealer. Causing the sealer to build up on the surface, change friction, and potentially appearance.
When a penetrating sealer is unable to be used, there are other options to choose from. High-gloss finish sealers or topical-type membrane coatings can be used; acrylic, polyurethanes, clear epoxy, and waxes. However, not all of these sealer options are suitable for all situations! There is more upkeep and need to reapply clear topical sealants.
Knowing the type of pavers you have is crucial when selecting a sealer. You can review our Sealer Guide for quick reference, but knowing the type of pavers will help answer such an open-ended question. Certain pavers are inherently more accepting of a penetrating sealer than others. These include:
Brick
Concrete
Limestone
Sandstone
Travertine
Adobe
Mexican (unglazed)
Bluestone
Lannon
Pavers that often vary in surface porosity:
Marble
Flagstone
Fieldstone
Granite
Seal Your Pavers Today and Save Tomorrow
Sealing your paver driveway, pool deck, paver walkway, or fire pit may not be high on your home maintenance list, but it should be mentally noted! The potential issues with the pavers themselves; shifting, sinking, unevenness, puddling, and shoddy installation are common complaints early on.
If you were fortunate enough to purchase a home with a paver area already installed know that paver installation is not cheap! Problems eventually will arise and although they may not be present early on, they can be expected.
Applying RadonSeal Paver Sealer to your pavers is an easy and relatively inexpensive solution to protecting your investment for years to come. It does not take a lot of common sense to know that by sealing out the elements and improving strength, your personal paver sanctuary will keep looking "good as new" for years to come!
Interested in adding some color to your pavers? Check out our guide on Staining & Sealing Your Patio The Right Way