Commercial Terms
Same Day Shipping
Most orders received by 1pm EST ship same business day. Our standard shipping method is Ground Delivery. We will ship your order via any of the major carriers, including UPS, FedEx, Spee-Dee Delivery, and USPS. Please provide us with your complete physical shipping address during the checkout process. We will not ship to PO BOXES.

Transit Days – Lower 48 states; packages are delivered within 1-3 business days to East Coast and Central States, or in 3-5 business days to Western States.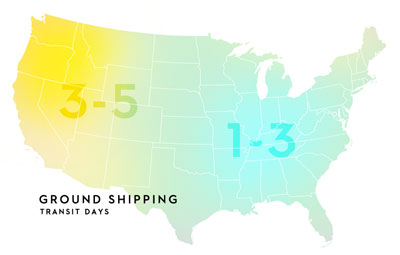 Alaska | Hawaii | Puerto Rico
Additional shipping fees, based on destination; size and weight; and shipping method apply to items shipped to Alaska, Hawaii, and Puerto Rico. Please contact a RadonSeal customer representative for further details and ship quote.

Expedited Shipping
We offer expedited shipping on most items. Some items are unable to be expedited due to chemical regulations, size of order and/or destination. Additional charges apply. Please contact a RadonSeal customer representative for further details and ship quote.

Bulk Orders
For large quantity package orders, 55-gallon drums, and IBC totes, items are shipped on pallets via transportation company. Please contact us before ordering.
Canadian Customers

Some of our product are now available in Canada from ECO Building Resource in Ontario tel. 905-841-3535. Retail location: 136 Wellington Street East, Aurora, Ontario, L4G 1J1. Products – 5-gal. pails of RadonSeal Standard or Plus, 5-gal. pails of LastiSeal Brick & Masonry Sealer flat or Satin.
Please contact us first by phone or email regarding the shipping cost, which is usually twice as expensive, depending on your location. You can order by telephone or click Order Online and use the item "extra payment" to pay the additional shipping cost.
We try to ship by Parcel Mail to reduce the shipping costs but liquids or chemicals have to be shipped by courier. There are additional fees payable by the customer – customs clearance fees and GST.
If you have a friend on the US side of border, you could save on shipping and fees.
---
Ordering
Pay by phone or online. For secure and encrypted online processing of your order, click ORDER ONLINE. All major credit card accepted. You can also use Apple Pay or pay through your PayPal or Amazon Payments accounts.
Sales Tax – Orders shipped to CT, ME, FL, and SC are subject to state sales tax.
Customer Privacy Policy
Your personal or business information will remain strictly confidential and will not be disclosed to others, except as needed to process your orders or inquiries. We do not use your information to solicit future business by emails.
Your personal information provided with your online order is encrypted and transmitted to us in a secure way. (Look for a closed lock icon in your browser and "https" in the URL address.) We do not retain or store credit card numbers. Your credit card data for orders processed online or through your online shopping account is not transmitted to us. Any notes from telephone orders are destroyed immediately after their processing.
This web site contains links to other sites. We are not responsible for the content or privacy practices of such other sites. We encourage our users to read the privacy statements of any other site.
Our Privacy Policy may change from time to time and any updates will be posted on this page.
Cookies
We use cookies to analyze traffic on our site in order to improve it and make it more useful to visitors. They do not collect any personal information. However, you can block or refuse cookies by setting preferences in your browser.
Damaged or Lost Shipments
We are responsible for delivering your order to the shipper. We cannot be responsible for products damaged or lost during shipment, but will endeavor to assist you. In case you receive a damaged shipment, please advise the courier (1-800 PICK UPS, or 1-800-GO FEDEX, or the Post Office) that you refuse to accept it. As soon as the courier advises us that the shipment has been damaged, we will ship you a replacement at no extra charge.
If the shipment has been lost, please contact the courier or Post Office. The shipments are insured to your benefit. When the courier advises us that the shipment has been lost, we will promptly ship a replacement at no extra charge.
Returns
Not all products are returnable! You must email or telephone us first for return authorization. Returnable products must be shipped back to the origin of shipment in original packaging, unopened and in salable condition within 30 days of receipt. If the product is returnable (see below), we will promptly refund the net product price (excluding shipping) less a re-stocking charge.
Products containing liquids should be shipped by UPS or FEDEX Ground. Customers are responsible for shipping charges and insurance (if the product is damaged during the return shipment, you will have an insurance claim against the courier.)
Refusal of Delivery
If the purchaser refuses to accept delivery of the order, the return shipping cost charged to us will be deducted from the refund.
| | | | |
| --- | --- | --- | --- |
| RadonSeal Deep-Penetrating Sealer | 15% | LastiSeal - FLAT | 0% |
| DryWay Water-Repellent Sealer | 15% | LastiSeal - STAIN | non-returnable |
| DIY Crack Repair Kits | 0% | Novion Universal Cleaner | 15% |
| PRO Crack Repair Kits | 15% | Ion-Bond Armor | non-returnable |
| BioZap products | 15% | Efflorescence cleaner | non-returnable |
| Backup Sump Pumps | 0% | Radon test kits | non-returnable |
| Lightning Strip Paint Stripper | 15% | Vapor test kits and scales | non-returnable |
| EasyEtch & pH Reducer | 15% | PowerEtch Concrete Etcher | 15% |
Information Disclaimer
In order to provide helpful information, this website presents information and advice based on our own knowledge, experience, and opinions, as well as other sources we consider credible. It is not intended to substitute for professional medical, technical, or other expert advice. We expressly disclaim liability for such information or advice and the reader is encouraged to also consider other sources.
Damages Disclaimer
Our products are applied by others and to a wide variety of materials under different applications and conditions. We do not provide any warranties, expressed or implied, except for the performance guarantees specifically stated about the product(s). The purchaser shall determine the suitability of the products for the intended application and assumes all risks and liabilities whatsoever arising in connection with their use. Novion Inc. is, therefore, not liable for any injury, loss, and direct, indirect, or consequential damages arising out of the use of our products. In any case, our liability shall not exceed the cost of the products paid by the purchaser, excluding shipping costs and taxes.
We highly recommend you contact us before making a purchase. Samples sizes are, and can be made, available so that you may carry out your own test to confirm the suitability of our products.
RadonSeal Concrete Sealer Limited Lifetime Money-Back Guarantee
RadonSeal Concrete Sealers are not a topical sealants. RadonSeal seals the matrix of clean and sound concrete against capillary water seepage, water vapor and radon gas provided it is applied in accordance with Application Instructions. We provide the following performance guarantees on do-it-yourself application by homeowners to concrete in their basement or slab-on-grade homes.
Testing is recommended to ensure proper surface suitability.
RadonSeal Waterproofing Guarantee
RadonSeal Concrete Sealers seals the matrix of poured concrete and heavyweight concrete blocks against wicking water, positive as well as negative side water pressure. If the concrete has repeatedly seeped water, you must phone us first for expert consultation! The concrete must not be leached out or internally silted up due to years of extensive water seepage resulting in heavy amounts of efflorescence. RadonSeal does not seal concrete with low cement content like lightweight CMUs, popcorn or splitface blocks. Please review How To Seal Concrete Blocks.
POURED CONCRETE - RadonSeal Standard & Plus
The concrete must be at least 28 days old, bare, dry, and at least 4 inches in thickness. NOTE: For concrete less than two years old, curing-agents used during the time of the pour may impede penetration of RadonSeal.
HEAVYWEIGHT CONCRETE BLOCKS - RadonSeal Plus
RadonSeal Plus seals bare, sufficiently dry, unsealed, unpainted heavyweight-concrete blocks. For blocks showing heavy amounts of efflorescence an dampness, please phone us first for consultation.
*CINDER BLOCKS - RadonSeal Plus + Ion-Bond Armor
While RadonSeal Plus successfully seals most block foundations and walls, there is a possibility it may not suffice for waterproofing cinder blocks. Why? Since RadonSeal works by reacting with portland cement it simply cannot be guaranteed to seal all cinder blocks (cinder blocks contain fly ash, less cement). About Cinder Blocks.
Using RadonSeal Plus with Ion-Bond Armor to seal cinder blocks has proved foolproof for many a homeowner and contractor. Ion-Bond Armor is often applied to concrete first sealed with RadonSeal to provide the tightest possible seal against water vapor. The combination of the two is needed for sealing more porous blocks or cinder blocks in basements. Extensively leached-out and older cinder blocks (+20 years) may require additional steps to properly fill and seal the enlarged pores. Please review detailed information about Waterproofing Cinder Blocks and Hard to Seal Porous CMU's.
EXCLUSIONS & LIMITATIONS
Water seeks the path of least resistance. RadonSeal Concrete Sealers are not guaranteed to seal water leaks through cracks, gaps, fissures, seams, mortar separations, saw cuts, corners, or floor-to-wall joints. Further repair may be required. Please review our Crack & Joint Repair Guide and Fixing a Wet Basement for detailed information.
Radon Reduction Guarantee
If your radon level exceeds 15 pCi/L after peforming a long-term test (90-day minimum), you must phone us first for consultation. RadonSeal Concrete Sealers must be applied to all basement walls and floor, or to the entire slab-on-grade foundation slab. RadonSeal will aid to reduce and/or keep the indoor radon level below the EPA Action Limit of 4 pCi/L.
The guarantee does not apply to basements with stone foundations, protruding rocks, dirt floor, rat slabs (less than 3" of concrete), attached crawlspace, or radon carried in by water from a private well.
EXCLUSIONS & LIMITATIONS
Radon gas seeks the path of least resistance. Using RadonSeal alone may not suffice to reduce radon levels. RadonSeal Concrete Sealers will not seal gaps, cracks, joints, protrusions, separations, and openings in the basement walls or slab. Additional repairs may be required to further reduce radon levels.
TESTING
Allow RadonSeal cure for at least 45 days before retesting.
WARRANTY PERIOD
Lifetime of the concrete.
Refund
If you are not satisfied with the results, you must phone us first for consultation and email requested photographs of the basement slab and walls. In case you subsequently decide to hire a professional contractor to install a de-watering/waterproofing system or a fan-based mitigation system, mail us a copy of the tests and paid contract for a FULL REFUND of the price paid for RadonSeal (excluding shipping) but not exceeding the cost of the contract.
This guarantee is valid for product purchased directly from us after March 18, 2010.
LastiSeal® Brick & Concrete Sealer Guarantee
LastiSeal Brick Concrete Sealer protects brick and sound concrete against water incursion into the substrate. LastiSeal is not a topical sealant. LastiSeal seals the matrix of brick and concrete. LastiSeal waterproofs above-grade structures against positive-side water intrusion.
Waterproofing Guarantee
LastiSeal Brick & Concrete Sealer will retain the waterproofing effect for a period of fifteen (15) years from the date of application. In the event the treated concrete loses the waterproofing effect during the limited warranty period, Novion Inc. will provide sufficient materials to restore the waterproofing effect to the areas on which it was lost.
This guarantee does not include or cover any loss of waterproofing effect due to improper surface preparation, improper application, the improper use of LastiSeal, structural defects or movement, water penetration caused by separations or cracks, holes, or joint areas requiring caulking, sealants or re-pointing, failure of the building, any damage to the building or contents thereof or any leakage due to mechanical damage or abuse.
WARRANTY PERIOD: 15 years.
Exclusions and Limitations
LastiSeal is not guaranteed to seal cracks, gaps, seams, corners, joints, saw cuts, separations, and holes where water can easily leak between. Further repair may be required. Please review our Crack & Joint Repair Guide.
Although frequently used for the following listed substrates, the waterproofing guarantee excludes surfaces under constant water-pressure such as; ponds, pools, seawalls, showers, basements, and subterranean construction. Due to inconsistencies and variables in construction, the waterproofing guarantee excludes rooftops, decks, slabs over occupied spaces.