How to Get Mildew Smell Out of Clothes
Modern detergents do a great job in loosening and removing dirt and stains from the surface of fabrics. Scientifically, they are called "surfactants" (surface active agents). But it is much harder for detergents to remove stains and odor molecules that cling to the fine fibers deep inside a fabric.
Do your children play sports? Hockey, soccer, lacrosse, football perhaps? After washing the laundry, the pungent sweat odor will still linger. And if you forget your "clean" laundry inside the washing machine, it will develop a nasty sour smell. Why? Because all the hidden organic dirt will start fermenting.
Typical laundering problems:
Mildew stains because their roots are intertwined in the fabric.
Organic stains from blood, grass or pets which are ground into the fabric.
Pungent odors from perspiration, pets, vomit or smoke.
Sour smelling towels or laundry left in the washing machine.
Bugs like head lice, bed bugs, and dust mites.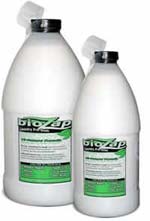 What Can We Do?
Repeatedly wash the laundry but that will weaken the fabric.
Use a bleach (chlorine, ammonia, peroxide) but that may fade the colors, weaken the fabric, and incite skin sensitivities.
Mask the odors with fragrances (fabric softeners or dryer sheets) but some people are sensitive to synthetic smells and the VOCs may be harmful to the lungs.
Use a fabric freshener which works by trapping the odor molecules, however, instead of making it clean, it all remains inside the fabric.
These are less than perfect solutions. If you want your laundry really clean inside and out, and odor-free without toxic residues or perfumes that could cause asthma or allergies, you need an effective laundry prewash product – BioZap.
Order Today!
Not sold in retail stores – shipped factory-direct. You can order
by telephone or online. Normally shipped within 24 hours and delivered by UPS within 2 to 5 workdays in the lower 48
states.
Shipping by courier to the lower 48 states. For expedited shipping or shipping to other states and Canada, please inquire first.
Not sold in retail stores – shipped factory-direct to your door. Normally shipped within 24 hours and delivered by courier (UPS) within 2 to 5 workdays in the lower 48 states.
BioZap™ Laundry Pre-Soak to the Rescue!
Only BioZap™ will make your laundry naturally clean and odor-free! Contains no chlorine, bleach, or harsh chemicals. Neutral pH. Does not emit toxic fumes. Does not contain perfumes.
BioZap uses the highest grade of Australian Tea Tree Oil (TTO) – Nature's most powerful air cleaner and deodorizer. Tea tree oil (TTO) helps clean mildew and organic stains, organic contaminants, and odor molecules hidden inside the fabric.More on the unique powers of Australian Tea Tree Oil
It is like letting loose an army of tiny Packmen that munch deep inside the fabric on all the microscopic invaders and microbes surrounding the fibers. They even help remove bugs because the organic acids in TTO soften their exoskeletons/shells.
BioZap Laundry Pre-Soak normally removes stains and odors after one wash cycle. It is color-safe for washable fabrics. It is environment- and user-friendly. An all-natural organic product. Biodegradable. Nature's alternative to bleach!
Read Customers' Feedback on Cleaning Molds, Mildew, and Musty Odors
When to Deep-Clean with BioZap Laundry Prewash
Perspiration odors, particularly smelly athletic gear, sport jerseys and underwear, pajamas, hats, etc. (Note that human sweat itself is largely odorless until fermented by bacteria. Good laundering requires removing the odor molecules, as well as the bacteria.)
Sour smelling towels or laundry (when left in a locker or the washing machine).
Smelly sneakers.
Tobacco odors.
House fire odors. 
Soiled diapers or underwear.
Baby vomit on clothing.
Pet clothing or pet stains.
Mildew stains.
Organic stains (like blood or grass).
Head lice, bed bugs, and dust mites (wash all bedding, pillow cases, and blankets to remove and prevent. All hotels should use BioZap!)
Washable carpets (pet stains and dust mites).
BioZap Product Line
for visible molds and mildew stains
for musty odors, molds & mildew
for organic stains and odors