ElastiPoxy Control Joint Sealant and Crack Filler Kit
ElastiPoxy Joint & Crack Filler Kit is a commercial-grade, low viscosity, self-leveling, 100% solids, hybrid, two-component flexible epoxy. Used for strong lasting repair and filling of contraction control joints, saw cuts, spalling, mortar joints, and large stress cracks in poured concrete and concrete blocks. ElastiPoxy is widely used for building and commercial projects, but easy enough for DIY homeowners to use for home repairs.
Once cured, ElastiPoxy is impact resistant. Virtually indestructible under high water pressure and heavy foot, vehicular, and machinery traffic. Chemically resistant to perform under harsh conditions. Alternatively, when mixed with construction sand, ElastiPoxy provides a strong, rigid repair for filling large cracks, mortar, and surface defects in poured concrete walls, floor, and concrete blocks.

ELASTICITY – Adequate elongation to allow for the natural expansion and contraction of concrete or masonry.
TENACIOUS BOND - Adhesion to damp surfaces, making it ideal for basements, slabs on grade, and driveways.
ZERO VOC - Environment- and user-friendly.
ElastiPoxy Joint & Crack Filler Kit

Size
Price
Shipping
ElastiPoxy Kit | 2-qts
$164
FREE
ORDER NOW
ElastiPoxy Kit | 4-qts
$294
FREE
ElastiPoxy Kit | 2-gal
$369
FREE
ElastiPoxy Kit | 10-gal
$1,289
FREE
---
Coverage
STRAIGHT (for moving contraction joints and floor-to-wall joints) – Approximate coverage based on a routed out joint or crack 1/4" wide by 1/2" deep and using pure epoxy (no added sand), the small kit (2-qts) will fill approximately 75 linear feet. The medium kit (2-gal) provides four times more volume – 300 linear ft.
MIXED WITH SAND (for a rigid repair of larger cracks) – For the small 2-quarts kit and using 4:1 sand to epoxy ratio, you will need approximately 20 lbs. of dry sand for the mixture to fill about 375 ft. of cracks ¼" wide and ½" deep.
---
Visual Guides for ElastiPoxy Application
For detailed information on the appropriate mix and application for your project, visit ElastiPoxy Joint Filler Application. If you have questions regarding the ElastiPoxy product or your particular project please contact us to speak with a technician.
---
Repair Cracks in Concrete Driveways, Pool Decks, Factory Floors, Basements, and More
Appearance – Cures gray. Adding sand or sprinkling on sand before it cures makes the surface color and texture look more like concrete. ElastiPoxy is partially paintable. When using pure epoxy, it is best to roughen up the surface first with a grinder.
Since the pure ElastiPoxy is flexible and self-leveling, it is commonly used for sealing and repairing:
WAREHOUSE, FACTORY CONCRETE FLOORS -

Protect edges of contraction control joints against heavy wheel loadings.

SAW CUTS -

Seals saw cuts in foundation slabs, basement floors, driveways, and garage floors.
BASEMENTS - Seal floor-to-wall joints in basements and buildings against water, vapor, and harmful radon gas.
DRIVEWAYS, RUNWAYS, PARKING AREAS- Seal control joints against dirt, salts, water, freeze-thaw cycles. Repair minor defects.
SIDEWALKS - Repair control joints and the troublesome sidewalk joint next to the building foundation.
CONCRETE STAIRS - Fixes the joint between a foundation wall and adjacent stairs, which are subject to a lot of movement.
MIX ELASTIPOXY WITH SAND for a strong, permanent, and rigid repair of:
CONCRETE SPALLING -

Repair spalls, holes, and defects in concrete driveways, patios, and pool decks.
CRACKS IN CONCRETE BLOCKS - Permanently seal cracks in concrete block or brick foundation walls.

CRUMBLING CONCRETE -

Use as a parging to repair and waterproof crumbling or honeycombed concrete.
MORTAR JOINTS - Use for repairing porous, deteriorated, or crumbling mortar in concrete block foundations.
STRESS CRACKS - Use for filling very wide cracks in concrete floors.
RUSTING STEEL – Fill holes caused by rusting embedded steel in parking decks and bridges after coating the steel with pure ElastiPoxy.
FORM TIES - Waterproof leaking form wire ties in poured concrete walls.
---
ElastiPoxy Kit Contents
You will need a small plastic pail for mixing the two compounds and a low-speed electric drill for the mixers. If needed, purchase dry, silica construction sand (with no fines) from your nearby big-box store. You will also need a small plastic watering can or a cup with a spout for pouring the pure epoxy into joints and cracks in floors. Use a masonry trowel when applying the ElastiPoxy-to-sand mixture.
1 can of Base Resin (Compound A)
1 can of Epoxy Hardener (Compound B)
2 Measuring Cups
2 Drill Mixing Attachments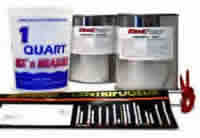 Cured ElastiPoxy Properties

Compressive Strength, min.
ASTM D 695
8,000 p.s.i.
Indentation Resistance
Mil-D-3134-E
no indent 0-2000 p.s.i.
Tensile Strength, min.
ASTM D 638
1,500 p.s.i.
Abrasion Resistance
ASTM D 1044
< 45 mg loss
Tensile Elongation
ASTM D 638
25%
Bond Strength to Concrete
ACI 403
> 350 p.s.i.
Flexural Modulus
ASTM D 790
95,000 p.s.i.
Bond Strength to Steel
ASTM D 570
1,950 p.s.i.
Hardness (Shore D)
ASTM D 2240
60
Water Absorption
Mil-F-52505
10%
Impact Resistance
Mil-D-3134-E
passes 16 ft-lb
Fungus and Bacteria Resistance
Mil-F-52505
no growth
---
Amateur "Fixes" for Cracks and Joints in Concrete Slabs and Walls
Hydraulic Cement is waterproof but does not bond well to concrete. That's why it needs an inverted V-groove. It is also very rigid – more than concrete – and does not move with the concrete. Not suitable for moving joints! After a couple years, this rigid rod gets loose and efflorescence (white powder) starts appearing around its edges, soon followed by drops of water. Using a patching compound instead will not provide a flexible and waterproof joint.
Polyurethane Caulk is both waterproof and flexible. It bonds well to the surface of dry concrete but wicking water and efflorescence gradually weaken the bond. It has no strength and easily separates due to water pressure, efflorescence, or traffic.
These common methods provide only a superficial and temporary fix. Only ElastiPoxy provides a permanent solution for flexible control joints and when mixed with sand, a rigid repair of cracks in concrete blocks and brick walls.