Sealing Concrete Driveways, Sidewalks, and Garage Floors 
Clean and well-maintained concrete says a lot about a homeowner. After all, your concrete driveway and walkways are often the first things that greet guests and people passing by. Beyond aesthetics and appearances, a sturdy, structurally sound driveway and sidewalk add curb appeal and value to your home.
Whether new or old, sealing your concrete driveway, walkways, sidewalks, garage floors, pool decks, and patios is a sensible and cost-effective way to protect and extend its life. The long-term effect of oil spills, car fluids, salts, deicing chemicals, shoveling, ice stick, and freeze-thaw damage can accelerate deterioration. Applying a driveway sealer requires very little time, money, or expertise, and similar to protecting outdoor wood decks and fences, it pays off in the long run!
Eco-Friendly Concrete Sealer with Unmatched Service Life
A typical acrylic driveway sealer requires reapplication every 1-3 years. For example, acrylic sealers form a soft, shiny coating that will wear down quickly and unevenly. Sure, they can be cheaper initially, but the costs add up quickly with every reapplication. DryWay Penetrating Water-Repellent Concrete Sealer is different. It is not a topical sealer, subject to surface wear, abrasion, or harmful UV radiation. DryWay works by penetrating below the surface, deep into the concrete, sealing and protecting concrete, brick, pavers, and various porous masonry for an unmatched service life of up to 10 years.
DryWay is the latest and most advanced type of penetrating water-repellent sealer for outdoor concrete and porous masonry, an emulsion of siloxanes and silanes. The polymers penetrate up to 1/2″ into the substrate, react chemically, bond, and cure internally as long-chain molecules. In other words, it's like filling the pores of the concrete with silicone caulk.
Earth-Friendly Formula
DryWay is a non-toxic, non-flammable, ultra-low VOC concrete sealer. It does not contain chemical solvents, is non-hazardous, and is VOC-compliant in all states (< 50 grams/liter VOC). Unlike conventional solvent-based silanes and siloxanes, DryWay poses NO explosion or fire hazards and has NO offensive odor.
Two Options of DryWay to Choose From
Who says sealing your concrete and masonry needs to break the bank? Compare the pricing of our DryWay product line to our competition. Why pay $250.00 for 5 gallons of an inferior product with inferior coverage rates? Choose from our traditional DryWay formula or DryWay PLUS for deeper, tighter, and longer-lasting protection.
Stain, Freeze-Thaw & Salt Protection for Outdoor Concrete
Keeping water out of your concrete and masonry is essential to protecting it. Water repellency is especially crucial in climates where temperatures drop below freezing. When water soaks into the concrete and freezes, it expands to stress the substrate internally. Frequent freeze/thaw cycles cause damage in the form of; spalling, cracking, and pitting. Salts and other ice-melting chemicals intensify this effect.
Road salts and deicing chemicals cause corrosion of steel-reinforced concrete – Rusted rebar can expand up to 4 times its diameter – causing severe damage to concrete slabs, walls, and other structures. Surfaces treated with DryWay are resistant to the damaging effects of chloride penetration, and because water cannot penetrate through the hydrophobic barrier, cracking, pitting, and spalling due to freeze-thaw, is prevented. DryWay can also eliminate concrete dusting and efflorescence.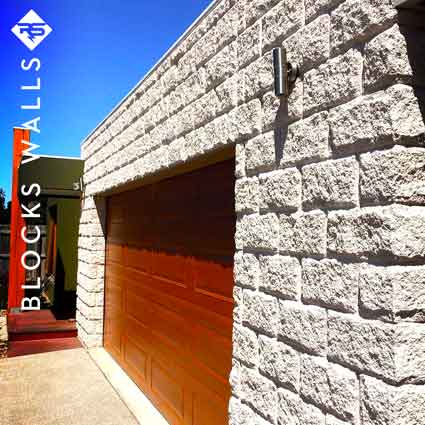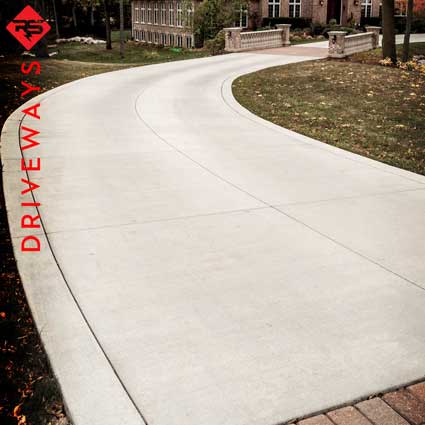 Reduces Time Cleaning Concrete & Paver Surfaces
DryWay is not only an effective water-repellent, but it also provides excellent surface stain resistance. Contaminants are blocked from absorbing deep "into" concrete, making cleaning oil spills, rust stains, fluids, dirt, and stubborn red clay stains from concrete a breeze. DryWay also protects against staining caused by engine fluids, grease, organic stains (bird droppings), gum, garden mulch, and graffiti.
In cold weather climates, DryWay prevents snow and ice from "sticking" to concrete, allowing for easier snow removal.
Sealing concrete with DryWay can significantly reduce labor and maintenance costs, the need for salts and deicers, and the cost of concrete repairs – especially valuable for commercial and institutional clients.
Read Customer Feedback about Sealing Outdoor Concrete.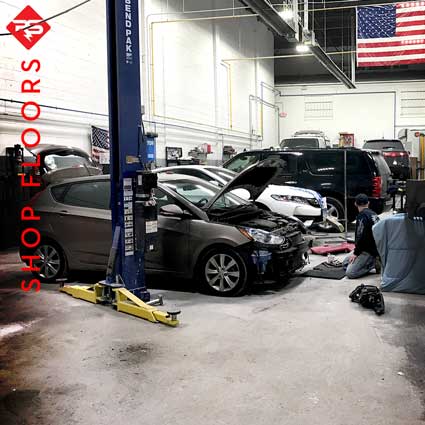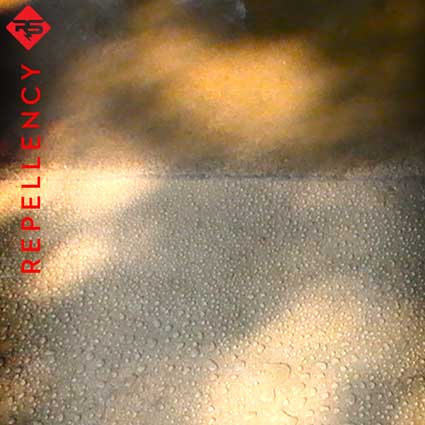 What Makes DryWay the Best Driveway Sealer?
DryWay has the highest siloxane/silane content in its class of sealers. Its performance far exceeds the requirements of NCHRP 244 and federal specification SSW 110 C. DryWay reduced labor time, ice melt cost, and the cost of replacing damaged concrete, pavers, and masonry surfaces. Used for sealing a wide variety of outdoor building materials and surfaces:
Poured Concrete, Pavers, Limestone, Slump Blocks, Split-Face Blocks, Cinder Blocks, Lightweight Concrete Blocks, Sandstone, Terra Cotta

Retaining Walls, Concrete Curbing, Concrete Barriers, Commercial Sidewalks, Building Facades, AutoBody Shop Floors, Industrial Warehouses, Food Plants, Subgrades and Stable Slabs, Sea Walls, Hotel Pool Decks, Decks, Parking Areas
Natural Look & Slip Resistant Concrete Sealer
DryWay is a low-viscosity, penetrating concrete driveway sealer that works by filling the internal pores of the concrete (concrete is porous). It does not cure on the surface, nor leave behind a film that will peel, delaminate, or wear away. DryWay is a nano-chemical penetrating sealer that forms a water-repellent barrier below the surface of the concrete, which is able to withstand UV rays and surface wear for up to 10 years.
When applied to a sufficiently porous concrete surface, DryWay will not change or reduce the surface friction coefficient. In other words, it does not make the surface of the concrete slippery. Making it ideal for use on vehicular and foot traffic areas such as; driveways, parking lots, walkways, and sidewalks.
The chemicals used in DryWay (silane and siloxane) do very little to alter surface appearance. Some substrates – with tighter surfaces – may appear a shade darker after application. The change is subtle and generally only noticeable to the applicator alone. DryWay is inherently resistant to UV rays, heat from the sun, and oxidative degradation. The sealer will not yellow over time and leaves no shiny gloss on the surface.
DryWay will keep your driveway and outdoor concrete looking beautiful and dry for years. Check out the video below, showing a customer applying DryWay to a paver driveway in Fort Myers, FL.
FAQs
Does DryWay bead surface water?
Topical, clear-coating driveway sealers (urethanes, acrylic, epoxies, waxes) bead surface water because they form a membrane over the surface of the concrete. When they begin to wear down, beading subsides, and the concrete surface is again, exposed to water, salt, and chemical penetration.
Surfaces treated with DryWay will bead water, but beading depends greatly upon surface profile and finishing techniques. Surfaces with rougher, deeper finishes will shed surface water, whereas beading could prove to be too difficult. DryWay is a penetrating sealer, therefore "beading" is not a direct indicator that the sealer is working. Just because a sealer does not bead water, does not mean it's not working for you! Depending upon where it is being used, beading is not always a desired trait in a sealer.
Does DryWay Stop Mold Growth?
Similar to using vinyl siding for your home, sealing concrete helps reduce mold growth. DryWay reduces and prevents mold, moss, leaf stains, and lichen growth, but it does not 100% completely stop them from growing. Sealing the internal pores of the concrete, DryWay prevents deep penetration of water into the concrete. The less water the concrete absorbs, the quicker it will take to dry out. The quicker the concrete surface dries, the less chance mold can grow on the surface.
Can DryWay be Used Indoors?
Absolutely! It is safe to use indoors and is often the choice of sealer for customers who use their garage for auto repair shops, workshops, mudrooms, and porches.
Can DryWay be for Sealing Basement Concrete?
Yes, it can be used for sealing basement concrete, but it is not the best choice of sealer against negative side water pressure. For sealing subterranean concrete, slab-on-grade, basement walls, and floors, RadonSeal Deep-Penetrating Concrete Sealer would be the better choice.
Can I Paint the Concrete after Applying DryWay?
Not initially. DryWay provides excellent stain protection. In other words, some materials have trouble bonding to the surface after the product has cured. You would have to wait for DryWay to wear down to apply paint, or epoxy, or use a surface leveler, patching compound, or similar. For as long as DryWay is working, the sealer will inhibit the chemical bond of surface coatings.
Is DryWay a Breathable Concrete Sealer?
Yes. DryWay will not trap water vapor thus allowing for the substrate to breathe and dry out.