Cleaning Concrete Made Safe and Easy!
State-of-the-art industrial-strength concentrate for cleaning concrete, pavers, bricks, masonry, and other surfaces like vinyl siding, plastic furniture, metal, fiberglass, or wood decks. Many industrial or residential uses. Keep a jug handy around the home. Just dilute the cleaner to match the job!
This cleaner & degreaser is much more effective, versatile, and economical than store-sold products, as well as environment-friendly.
Instead of harsh or toxic chemicals, Novion Universal Cleaner uses state-of-the-art butyl technology to make cleaning easy and safe for the user and the environment:
Non-toxic (no "skull and bones"), non-corrosive
Nonflammable, non-carcinogenic, non-hazardous
A light hydrocarbon odor
Not harmful to grass, plants, and vegetation
100%

Biodegradable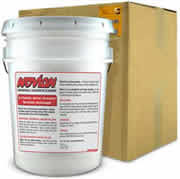 Order Today!
Not sold in stores but delivered directly from the factory to your door. Orders received by 1 PM ET are normally shipped the same day and delivered by courier (UPS) within 2 to 5 workdays.
*Available also in 55-gallon drums.
Based on shipping by courier to the lower 48 states. For expedited shipping or shipping to other states and Canada, please inquire first by telephone or e-mail.
This product is returnable subject to a 15% re-stocking fee. If unsure, use a test sample first. Check out Commercial Terms.
Concrete Cleaner, Brick Cleaner and More!
Coverage varies widely depending on the job and dilution. (A rule of thumb – a gallon of a liquid covers about 100 sq. ft.)
about 100 sq. ft./gallon of Cleaner when used straight
about 500 sq. ft./gallon of Cleaner in 5 : 1 dilution
about 1,000 sq. ft./gallon of Cleaner in 10 : 1 dilution
Cleaning Projects
Cleaning oil stains
Degreaser
Fireplace brick cleaner (soot)
Concrete cleaner
Cleaning shop floors
Cleaning vinyl siding
Driveway cleaner
Cleaning patios
Graffiti removal
Garage floor cleaner
Cleaning parking areas
Paint stripper (latex) on floors
Basement floors and walls
Barbeque cleaner
Tile adhesive remover (latex)
Paver and brick cleaner
Masonry and stone cleaner
Carpet adhesive remover (latex)
Sidewalk cleaner
Cleaning patio furniture
Remove grease from machinery
Dilute to Match the Cleaning Job!
Novion Universal Concrete Cleaner removes various deposits, contaminants, and even water-based paints:
| | |
| --- | --- |
| dirt, grime, and stains | latex-based paints & adhesives |
| oil spills and carbon shadow | water-based acrylic paints |
| soot from fireplace bricks | graffiti |
| tire marks | tree sap resin |
Light cleaning … 1 oz. cleaner/gallon of water

Many light cleaning jobs around the home or in the shop.
Normal cleaning … dilute 10:1

Shop floors and walls, bilges, exhaust stack smoke, rubber clothing, oil-soaked ground or beach sand, vinyl siding, decks, teakwood, exterior mobile homes, air conditioner filters, shower stalls, bathtubs, sinks, carpets, etc.
Heavy cleaning … dilute 5:1

Ramps, decks, oil platforms, engine rooms, automatic transmission parts, bulkheads, galleys, oil-stained concrete, petroleum-based drilling mud, creosote, etc.
Extra-heavy cleaning … dilute 1:1 or use straight

Holding tanks, engines, carbon on engine heads, grease traps, oil and grease on concrete, encrusted oil and grease, removing paints and adhesives, graffiti removal, etc.
Stripping paint … use straight

Once the paint dissolves, pressure wash or wipe it off. If necessary, spray on more cleaner to keep the surface wet and let it work. On rough surfaces, agitate with a stiff nylon brush.
Steam cleaning or pressure washing

A pre-mixed solution of 1:5 to 20 can be drawn from an auxiliary tube or put directly into mixing tank giving up to 1 to 200 dilution at the nozzle.
Effective and Safe
First, wire brush, scrape, or pressure wash off excessive deposits, loose adhesives or paint.
Properly dilute the Universal Cleaner and apply in a thick layer on the floor with a sprayer or just pour out and spread with a broom or roller. Grime and dirt will usually soften or liquefy within minutes. It helps to scrub stubborn spots with a stiff brush to make the cleaner penetrate deeper.
Graffiti removal: Use Universal Cleaner in concentrated form. An eco-friendly solution that replaces hazardous chemical solvents. Used by graffiti removal professionals.
This cleaner is even effective on latex-based paints and adhesives, as well as water-based acrylic paints. Great for removing paint over-spray from floors. But it is not effective on oil-based paints or mastics, epoxies, or tar/asphalt waterproofing (use Lightning Strip Paint & Mastic Remover).
Since the cleaner has to be allowed to sit on the painted surface, it works best on floors or slabs. Tougher jobs will the help of a pressure washer.
Keep the surface moist! If it is hot or windy or it is taking long, apply more cleaner to keep the surface moist so that the cleaner can continue to work. If cleaning an uneven slab, push the cleaner to higher areas. Heavier paint may need a couple of hours to soften. For tougher jobs, cover the cleaner with a plastic sheet to stop evaporation and let it work overnight.
If there are remnants of vinyl floor backing, scrape it all off with a razor scraper after the adhesive has softened.
Thoroughly pressure wash or repeatedly rinse the surface to clean the surface and remove any residue of the cleaner from inside the concrete. (The cleaner residue would remove any newly applied paint or adhesive.)