Ion-Bond Armor – Subsurface Elastomeric Concrete Sealer
---
The "Champ" among all siloxane or silane sealers and without equal in the marketplace! Ion-Bond™ Armor penetrates the deepest, waterproofs the tightest, and the seal is permanent. The only one that seals against negative side water pressure in basements. It can even seal through a single layer of latex paint!
Ion-Bond Armor's small molecules are able it to penetrate deep into concrete and porous building materials, where they react and form an elastomeric waterproof barrier well below the surface. It's "like injecting silicone caulk" into the pores! Water pressure cannot push it out. Ion-Bond waterproofs against surface water as well as negative-side water pressure – the infiltration of underground water into basements. It seals so deep below the surface that it leaves the surface paintable.
---
The Sealer That's Really Better!
Ion-Bond™ subsurface elastomeric sealer works by filling the pores inside the substrate, not by forming a surface film.
Waterproofs concrete, brick, masonry, pavers, and most porous building materials.
Penetrates up to 1-1/2" into concrete (three times deeper than a typical siloxane sealer).
Waterproofs the substrate against rainwater, snowmelt, and surface water.
The only siloxane sealer that waterproofs against negative side water pressure, which makes it suitable for basements, foundation slabs, and retaining walls. Hydrostatic pressure from the "backside" cannot push it out of the pores. Stops water wicking by capillary action. Most homeowners are not aware that the "waterproofing" silane, siloxane, or acrylic concrete sealers sold in stores are not suitable for basements because they get pushed off by negative water pressure.
Permanent! No re-applications needed. (Store-sold sealers have to be re-applied every other year.)
Does not leave a surface film. Does not alter color or appearance of the surface. Not slippery when wet.
Leaves the surface suitable for paints, adhesives, thinset, or patching compounds.
Reduces the infiltration of water vapor and gases, while still allowing the substrate to "breathe" and dry out.
Highly penetrating. Penetrates into most hard-troweled concrete surfaces. But not for use on polished concrete or stamped concrete. Great for garage floors.
Even waterproofs through a single layer of latex paint, including a widely sold waterproofing paint. Latex paint is porous. (But Ion-Bond will not penetrate through other paints, hybrid paints with latex, and two or more layers of latex.) It your waterproofing latex paint starts leaking after a few months, let it dry out and seal it with Ion-Bond Armor. This will save you lots of work on removing the paint.
Ion-Bond Armor is so durable because it is imbedded deep inside the pores. It is well hidden from UV-rays that break down other sealers. Once sealed with Ion-Bond, the concrete will remain waterproof for its life.
The subsurface elastomeric membrane repels and sheds water. After a rain, the surface will dry out quickly. If there is a puddle in a low spot, it will stay until it evaporates because the concrete is waterproof. But the surface will not "bead" water because the seal is so deep below the surface. It will not become slippery. Spills do not penetrate and are easy to wash off.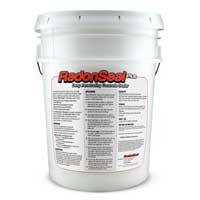 ---
Order Today!
Orders received by 1 PM ET normally ship the same day and are delivered by courier within 2 to 5 workdays.
Ion-Bond Armor Subsurface Sealer
Size
Price
Shipping
5-gallon pail
$299
FREE
Order Now
Based on shipping by courier to the lower 48 states. For expedited shipping or shipping to other states and Canada, please inquire first by telephone or e-mail.
RETURNS: This is a NONRETURNABLE product. SHELF LIFE: 45 days. Please apply the sealer quickly. Review our Commercial Terms.
---
Coverage
Coverage depends on the porosity and composition of the concrete. Approximate coverage per 5-gall. pail:
POURED CONCRETE - 2 applications will seal 1,000 sq. ft.
CONCRETE BLOCKS - 2 applications will seal 700 sq. ft.
SPLITFACE/CINDER BLOCKS - 2 applications will seal 500 sq. ft.
---
Customer Testimonials
"I have tried Drylock, ThoroSeal. Locktite, and Rockite. None of these products worked. I applied your product Ion-Bond Armor on Saturday morning and on Sunday and Monday it rained all day. I was so pleased..." – Rose E. K., OH
"...how great your product is working for our concrete roof here in Texas. The rubber membrane had some holes letting small drips of water into the house. We used your Ion-Bond Armor on the concrete and Wow! Not a drip in sight!" – James L., TX
"...recently used RadonSeal and Ion Bond Armor to resolve a serious water infiltration problem, I must say I am 110% impressed with your products. We tried other sealers but..." – Justin G., MA
See Customers' feedback and tips on Sealing Concrete
---
Combine the Best - Ion-Bond Armor plus RadonSeal!
The most common application of Ion-Bond because it provides the tightest possible seal against water and especially, water vapor and radon gas. A must to reduce chemical vapor intrusion into buildings. After sealing the concrete with RadonSeal Plus Concrete Sealer, let it dry out and cure for at least 10 days and seal it again with Ion-Bond Armor.
The combination of these two sealers is recommended for challenging situations like sealing very porous deteriorated concrete and older concrete blocks or cinder blocks in basements.
It is particularly useful for sealing concrete floors before installing moisture sensitive flooring – much better than using plastic sheets which trap moisture and may cause molds and mildew after several years. Also used before installing epoxy or urethane coatings on slabs with high vapor transmission rates that may bubble up after 5 to 10 years.
CINDER BLOCKS – Waterproofing very porous concrete blocks and cinder blocks in basements.
WOOD FLOORING – Sealing porous concrete slabs to minimize water vapor transmission before installing flooring.
EPOXY COATING – Sealing concrete slabs to minimize water vapor transmission before installing epoxy or urethane coatings.
HIGH-RADON LEVELS – Reducing radon gas infiltration to a minimum.
VAPOR INTRUSION – Reducing vapor intrusion from contaminated soils (dry cleaners, landfills, brown fields, hydrocarbon spills, insecticides).
---
Ion-Bond™ Armor or RadonSeal® Concrete Sealer?
RadonSeal is the best sealer for sound, uncolored concrete and cementitious materials. It penetrates the deepest (up to 4") and reacts with "free lime" in concrete. This hardens the surface, strengthens and densifies the concrete internally, and neutralizes lime and alkalis that cause efflorescence. RadonSeal forms a tight seal against water, water vapor, and even radon gas.
Ion-Bond Armor is a state-of-the-art polysiloxane sealer. It uses waterborne siloxanes, which are organic silicon compounds. (The word siloxane is derived from silicon, oxygen, and alkane.) Its small molecules penetrate deep into capillaries, react and gel as long-chain molecules, which bond to the substrate, and cure. Polymerized siloxanes are closely related to silicones (like in silicone caulk). For maximum strength, the molecules are negatively charged during the manufacturing process to attach themselves.
Unlike RadonSeal, Ion-Bond Armor is self-reacting – it does not depend on a chemical reaction with alkalis. It can seal concretes difficult to seal for RadonSeal, e.g. concretes with additives or color pigments like integrally colored concrete, and fiber-crete. It also seals non-cementitious materials like bricks, stones, and masonry.
Ion-Bond molecules are so small that it can seal most power-troweled surfaces or dense structural concrete without the need for acid etching or grinding the surface.
While RadonSeal requires thicker concrete to be effective (3-4"), Ion-Bond Armor is also suitable for thinner conrete (2" and thicker).
Ion-Bond application requires a completely dry concrete or substrate.
Both sealers do not "bead" water and leave the surface suitable for paints, thinset, and patching compounds.
The downside of Ion-Bond is a very short shelf life (45 days) requiring a quick application after receiving the sealer.
---
Use Ion-Bond Armor as a Stand-Alone Sealer on:
FIBER REINFORCED CONCRETE
INTEGRALLY COLORED CONCRETE FLOORS OR DRIVEWAYS
THIN CONCRETE FLOORS (<3")
HARD-TROWELED CONCRETE
NATURAL STONE
SEALING THOUGH ONE LAYER OF LATEX-BASED PAINT
How do you check if the paint is latex-based?
IS IT LATEX PAINT OR OIL-BASED? – Clean a small area with a solution of warm water and household detergent or dishwashing liquid. Rinse well and towel-dry. Soak a Q-Tip, cotton ball, or soft rag in rubbing alcohol and rub it back and forth over the clean area. If the paint comes off, it is latex. Or take a chip of the paint to a paint store.
---
Comparison with Other Concrete Sealers
There are various water-repellants and concrete sealers on the market based on wax, acrylics, siloxanes, urethanes, or epoxy.
NO SURFACE FILM

Ion-Bond Armor does not form a film on the surface. Surface sealers peel or crack, wear off in traffic, and break down due to UV-rays. The surface film gets lifted by negative side moisture pressure or efflorescence. Water pressure even bubbles up and cracks epoxy coatings.

DEEP PENETRATION

Some sealers claim to be "penetrating" when they penetrate merely ¼" into the substrate. Ion-Bond penetrates up to 1-1/2" into concrete.

WATER VAPOR

Some sealers form a vapor impermeable film on the surface which traps moisture and activates efflorescence inside the concrete. This is harmful to the concrete and unsightly. Ion-Bond allows the substrate to "breathe."

DURABILITY

While most acrylic and siloxane sealers last only a couple years, Ion-Bond Armor waterproofs and protects permanently. The leading driveway sealer sold in stores breaks down so quickly due to UV rays that it has to be re-applied every year.

SLIPPERY SURFACE

Ion-Bond Armor does not make the surface slippery when wet.

USER- AND ENVIRONMENT-FRIENDLY

Many sealers use chemical solvents, which release fumes, odors, and volatiles (VOCs) harmful to people and the environment. Ion-Bond Armor is waterborne, non-toxic, nonflammable, has ultra low VOCs, and is nonhazardous and environment-friendly.
---
Application and Surface Prep
Ion-Bond Armor is a user- and environment-friendly product – waterborne, nonflammable, and nonhazardous. You can apply it quickly and easily with a hand-pump garden sprayer. Before application, mix in the activator with a mixing tool (included) using a standard electric drill.
Surfaces to be treated must be clean, bare, and thoroughly dry.