EasyEtch - Concrete Etcher & Alkalinity Reducer
---
Why should you Etch Concrete?
Concrete etching is often needed to prepare concrete floors for painting, sealing, or staining:
Cleans concrete off efflorescence (white minerals), ground-in clay and dirt, and rust stains.
Opens pores in hard-troweled concrete surfaces for penetrating sealers (like our RadonSeal or LastiSeal) or stains (LastiSeal Concrete Stain).
Roughens the surface for better adhesion of paints and coatings.
pH reducer – reduces high alkalinity of young concrete (up to 2 years old) which would "burn off" paints or stains.
Concrete acid etching is commonly done on indoor and outdoor slabs or floors in basements, garages, factories, warehouses, driveways, sidewalks, pool decks, and patios.
Muriatic (hydrochloric) acid and similar acids are effective but present health and environmental risks, including dangerous splashes, toxic fumes, and corrosive run-off.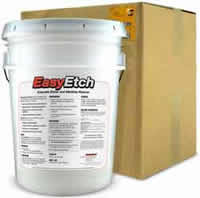 ---
Acid Etching Concrete Floors without the Fumes and Hazards
RadonSeal EasyEtch™ Concrete Etcher is a waterborne etching solution that is user- and environment-friendly. It is non-corrosive – does not burn skin or the lungs. Based on organic citric acid, it is biodegradable and non-hazardous for handling and shipping. (Other concrete etchers must be shipped in small containers to reduce shipping hazards.)
Safety features:
Waterborne, no solvents, zero VOCs.
Non-corrosive, non-hazardous, nonflammable.
No dangerous fumes, zero (or low) odor.
Organic, biodegradable.
Cannot "burn" concrete like muriatic acid
---
Order Today
EasyEtch is not sold in stores but delivered directly from the factory to your door. Orders received by 1 PM ET normally ship the same day and are delivered by courier (UPS) within 2 to 5 workdays.
EasyEtch Concrete Etcher
Size
Price
Shipping
EasyEtch 5-gallon pail
$119
FREE
Order Now
Based on shipping by courier to the lower 48 states. For expedited shipping or shipping to other states and Canada, please inquire first by telephone or e-mail.
Coverage: 500-1,000 sq. ft. per pail depending on the surface.
Read Customers' feedback and tips on Cleaning Concrete
---
Easy and Safe Application
EasyEtch™ is ready to apply – no mixing needed.
The concrete must be at least 28 days old and dry. The surface should be above 40°F but not hot in direct sunlight.
Remove contaminants like paints, sealers, curing agents, adhesives, oil, and grease. Spray surrounding grass and vegetation with water before and after application as an extra precaution. Best to mask copper, zinc, and aluminum against over-spray or wash off after the application.
Apply EasyEtch™ with a watering can or pump-up garden sprayer. Scrub the surface hard with a stiff bristled broom or brush. Let it work for 15–20 minutes. Do not let dry out! Rinse the surface with water and scrub 2 or 3 times, or use a power washer to remove any residue. If needed, apply a second treatment.
When reducing alkalinity, drip on a few drops of water, wait a few minutes, and check with pH test strips (available in drug stores). Most paints and stains require a pH level below 9.
Check out EasyEtch SDS
Storage: Store sealed containers in a cool, dry location for up to two years. If accidentally frozen, it can be safely thawed out.
Customers' feedback on Concrete Cleaners for Efflorescence, Paint, Oil, and Grime
---
Commercial Topics
Returns: Unopened product in salable condition can be returned within 30 days of receipt for a refund of the product price less a 15 percent re-stocking fee. The purchaser is responsible for shipping. Please review our Commercial Terms.
Disclaimer: Read the product label, instructions and precautions! The purchaser shall determine the suitability of this product for the intended use or varied methods of application. We do not provide any warranties regarding the suitability or performance of the product and shall not be liable for any injury, loss, direct, indirect, or consequential damages arising out of the use of this product.