Hi & Dry™ Battery and Water Powered Backup Sump Pumps
---
Hi & Dry™ Battery Backup Sump Pumps
"Thanks much for your personal assistance and professional advice when I ordered your RH-1400 Battery Backup Sump Pump. Before calling you, I conducted extensive research on back-up sump pumps, reviewing dozens of your competitor's pumps. The RH-1400 is the best on the market … period. I've risked a flooded basement for years by not having a back-up system. Not only is your pump the most reliable, it's the easiest to install for mechanically-challenged do-it-yourselfers like me. Two bonuses with your system, that no other systems have: I don't have to worry about filling the battery with special fluids each month (like the other second-rate back-up battery systems) or worry about the pump clogging or corroding from years of sitting in a muddy sump pit (how ingenious, the pump sits on dry concrete outside the sump!). I can assure anyone looking for peace of mind and reliability, this is the one. Thanks!" – Bob G. - Barrington, IL
"My buddy and I installed the battery backup sump pump RH-1400 yesterday. We were both impressed with the unit and the fact that everything we needed came with the kit. What a smooth installation! Although a little more expensive than Home Depot models, this is such a more advanced system with many advantages. Glad to have the piece of mind that comes with the RH-1400!" – Glen G., MD
"Installed the RH-1400 day before yesterday. Followed your excellent directions. Job took a couple hours but went well. Pump has been tested and works well as advertised. When it rains, my main sump pump gets a workout. I have been concerned about power outs and main pump failure. But now I have peace of mind. RadonSeal has been a delight to work with and very professional. Thank you." – James A., VA

"Our house has two electric sump pumps. During our first year in the house, we had a power outage that lasted most of the day. We ended up with two inches of water in our basement. Our neighbors said we were lucky - they had over a foot of water during the same storm.
I purchased an RH-1400 kit a few months later. I chose RadonSeal because of the extensive instructions and diagrams on the website. I'm not a particularly "handy" person, but looking at the instructions I felt I could handle the installation myself. It was very satisfying to get to the end of assembly and have everything work as expected.
Since installing the RadonSeal battery backup sump pump, we have lost power for an hour or so a couple of times. Last night, however, we lost power for 10 hours during a rain storm. The RH-1400 worked like a champ and our basement stayed dry! That's my testimonial. Thank you!!" – Rick B., PA
"I purchased a RH1400 pump several years ago. It has served us very well during a sump failure and multiple power outages. I can sleep at night without listening for the sump to come on! Thanks for your help. This product was the best $400 I ever spent..." – Russ M., Ohio
"The RH-1400 battery pump arrived and we have already installed it! Very easy to do, as promised! I love the security of not having to worry about a power failure again and not having my main pump be able to do its job!" – Paula C., RI
"Installed the battery back up sump pump RH-1400 today. Had no problem with the installation of the unit. Working fine. It was nice to receive a package that was complete with all parts need and good instructions, easy to follow. Was a pleasure doing business with you." – Robert P., NY
"I purchased the RH-1400 but used a plumber since I wanted to upgrade both a primary and battery back-up pump. It took about 1 ½ hrs. to complete the install. He tested both the primary and back up pump through a few on-off cycles with both working fine. I did considerable internet research on battery back up pumps before deciding on the RH -1400. In all honestly, I hope to never have a need for the back up pump but now I have greater "piece of mind". Thanks again, Radon-Seal."
"Just wanted to comment on the speedy delivery of the Battery Backup Sump Pump RH-1400. The installation was very easy to do. This is a godsend, for we have just finished remodeling our basement. No more worries. Thank you very much!" – Eddie W., TN
"Thank you for the quick shipment. I called the order for RH1400 in on Thursday afternoon and the pump kit was delivered to my door via UPS on Friday. I am very pleased with the RH-1400. Installation was pretty straight-forward and it works like a dream. I am very pleased with the unit itself and look forward to an "official" power-outage." – Alan C., NY
"Hello, My name is Don and purchased your Hi & Dry battery backup system RH1400 which was sent very quickly. I installed it with the instructions that were very easy to follow. The only thing i I did extra was put a Union on the suction line for easy removal of the screen and check valve. After completion I let the water rise to kick the pump on. I couldn't believe how quiet the pump was and how fast it pumped the water out with no problems at all. I would strongly advise anyone to get this unit especially if their is limited room in your pit. Thank you for a great product." – Don G., MI

---
Hi & Dry™ Water-Powered Emergency Sump Pumps
Model: Hi & Dry Water Powered Backup Sump Pump RB-750
"I installed the backup sump pump RB-750 myself and I am just a software engineer. It took me about 3.5 hours and it was not difficult at all. The hard part was going to the hardware store and picking up copper piping, a turn off valve and union. Made all the connections, turned the water on and the suction began and emptied the pit right away. I have ordered on Tuesday and installed in on Saturday morning! Thanks" – Brett R., IN
"I've installed about 50 of the RB750 over the past 12 years and have not received one call back or complaint that it has not worked. I've replaced cheaper water back up systems that failed, with this pump. GREAT PUMP!" - A.P., Trustpilot review
"I recently purchased your water-powered backup sump pump Hi & Dry RB-750. I had experienced a couple of power failures during recent strong nor-easter storms and was tired of bailing water out of my sump hole and carrying water in 5 gallon buckets outside. I checked out your web-site and found everything I needed to know about these pumps. A friend of mine (plumber by trade) installed it in less than 3 hrs. and then we tested it. I was VERY PLEASED with the results. I should have checked into this long ago. As you can see from the pictures (attached), we were able to tie in the discharge to the existing sump discharge, thus eliminating the need to drill another hole in the foundation wall. An existing city water line was close, making the tie in clean and simple. The whole unit is neat and compact. These are great units and I would recommend them to anyone looking for a back-up system. I have two neighbors, very much interested in checking out this new back-up system. I will strongly suggest to them ordering from you at RadonSeal. I'm sure they will be as equally pleased with the service and the results." – Wayne F., DE
"Dear RadonSeal, Hi my name is Chris R..., I am an active duty soldier at FT Knox, Kentucky, and just installed a backup sump system RB-750. I moved into a home in July which had a finished basement and I was disclosed that the sump pump system was "newer", but the previous owner did not install a backup system. Well it began with a massive weather system that dumped over 7 inches of rain on Halloween, day 2013. All day and up to this point the sump pump system was working and keeping the basement dry. However around 7pm there was a power flicker and this was the straw which broke the camel's back.. It shut the sump pump off, and since it had been running almost constantly all day, (and later discovered the pump was over 4 years old, and a cheap model), it could not restart. I noticed around 10pm that I had not heard the pump discharge in a while and went downstairs. When I did, there was 1 inch of water through the entire basement soaking the rugs and all furniture. I was at a loss; all I could do was move stuff up higher and into the garage, and the water continued to pour out of the sump pit. I eventually got in touch with a friend at 1 AM who brought a utility pump to at least stop the water and start to get the water out, until the local stores could open so I could buy and install a new sump pump. But it was a big loss down stairs and had to contact Serve-Pro to extract and demolish the basement.
I knew I needed to have some other failsafe backup system but what was I going to do? My neighbor had a battery system, but even that failed on him after his main pump died and the backup worked until the battery died and he had no idea and flooded his basement, luckily his basement was not finished. That's when ironically I was watching an episode of "Ask This Old House" on PBS and one of the story lines was about a flooded basement that had a battery system that failed as a backup. I watch Richard Trethewy install a water powered backup system. This is when the light bulb when on and I researched water powered backup systems, and found RadonSeal and compared a few other manufactures and systems, and your system was the most complete, ease of use, and ease of installation. Simple design and the fact that it did not need electricity or battery and that it could run as long as I had water pressure I was sold, not to mention your company had the best warranty.
I ordered your system and received it quickly, it was ruggedly built, and truly was a compact design, and after careful review of my setup in the basement, was able to install it into the main water line utilizing 3/4" push fitting and PEX tubing, and 1" PVC piping for suction and discharge to the outside (photos 1-4). Now I have some experience with plumbing and this made the installation smooth, but I could see the average homeowner be able to do this as well with a friend. After testing, it was quieter than I thought but I watched the sump pit drain to the bottom in just a few minutes. This brought a big smile on my face and a huge peace of mind, and the confidence that my basement now that it has been refinished will be High & Dry! Not to mention my neighbor is also interested in your system and I can't wait to show it to him! Thank you so much for your system." – Chris R., KY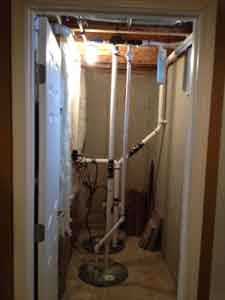 "After fearing for my man cave's fate during hurricane Sandy last year I decided I needed a backup sump pump. After much consideration I decided to go with a water powered unit. I purchased the RB-750 and finished installing it this past weekend. Went together great and I was very pleased with the quality of the pump. Also it came with the additional connections which added to the flexibility of the install. I figure it took me abound 2 days not including planning to install this pump. I am not a pro but I am fairly handy with things around the house. I opted to install a separate discharge pipe, but you don't have to if it is an issue, the pump comes with a tee for connecting to the main pump discharge. The flexible spa tubing is great I used it for an easy connection between the pump and the sump pit. I also put two unions at each end so it will be easy to remove and service the pit later. I would recommend reading the directions carefully. There is a lot going on with project, and while it is not difficult, when working with pvc glue you only get one chance. Overall I would say the most difficult part was the planning of where to mount the pump so that it would be in the best location for the water, discharge, and intake. I think that without using the included flex pipe this would have been even harder. As far as performance the pump worked great the first time in turned the water supply on. I did have to adjust the timing knob slightly for a longer run time (when it rains heavy my sump fills quickly). I did a lot of online research before choosing to buy this backup pump and I am very satisfied with with my purchase. I would like to thank all the other reviewers, their shared experience greatly helped me with this project." – John V., MD
"Just completed installation of a RB-750 and everything went smoothly. I was pleased to see that everything necessary was included and the instructions were clear. Pump operates normally and works as advertised.
Also, I want to thank you for using environmentally friendly packing material. I will never have to spend time picking up starch peanuts from my front lawn. Thanks for doing the right thing for the environment!" – Michael B., IL
"Good morning. I recently purchased your Residential water-powered pump RB-750 and had it installed last night. I would first like to comment on what a wonderful product this is and I thank you for that. I am amazed how well it works!" – Michael D., IL
Model: Hi & Dry Water Powered Backup Sump Pump HB-1000
"It's been a while since we ordered the Hi & Dry HB1000 from you. We've been playing tag with the customer we purchased it for to get a good installation date. He insisted on being home when we installed it. Probably a good move so he could learn how it works. Two weeks ago, we installed it. And the rains came, and came, and came. Delaware has never seen the like of it. Last week everyone was on the lookout for the ark with the animals to float by. And the transformer to the development where the customer lives was hit by lightning, so he lost power. And Connectiv could not work on it because of the heavy rains. Power was out for 1-1/2 days.
Know what worked? His HB1000!!! Worked like a champ. Kept that nice home woodshop floor in his basement dry. He is VERY happy. I think he's holding tours in his basement for neighbors. We are happy too. Thanks. Product works very well. Installation was new to us, but instructions were excellent." – Tom D., Maintenance Troubleshooting, DE
"FYI, I just installed my first HB1000 water-powered backup pump. I have never been impressed with the ones my local plumbing wholesalers carry. I started researching different emergency pumps on line and was impressed when I read about your product. As a professional plumber, I want the best possible product for my customers, so I was willing to try your pump. The basement we installed it in had already flooded 2 times in one month. It had the rinky-dink Zoeller emergency pump. The new installation was very easy! We were very impressed with how fast the HB1000 removed the water in the crock! I feel the extra cost of this pump is worth it for the protection of property and belongings.....not to mention, the stress of a flooded finished basement. We have attached pictures of our installation." – Charlie B., NY

"I put one in my house for piece of mind last year and shortly after I put it in our neighborhood lost power. I was sitting on my door step hearing my sump turn on and had such a good feeling knowing I didn't have anything to worry about. Since then I have installed 2 others in my neighbors houses and just ordered the third one to put in. This system is the best insurance you can do to protect your finished lower level." – Bob, Eden Prairie MN
"I purchased my HB-1000 last November and I am attaching a couple of pictures showing exactly how I installed my pump. I tested the performance of the pump and was blown away. It only takes about 20 seconds for the pump to remove all the water in my pit, almost as fast as the main pump. Your pump is great and I will recommend it to all my neighbors." – Tom O., MI
"Your service is excellent and I would recommend your company to anyone. The HB-1000 works well and only a few days after I installed it, we had 2" of rain and as luck would have it, the power was off for 3 hours. Needless to say the water driven pump did its job and saved my basement. It paid for itself already, since my basement flood of July 1, 2010, caused about $11,000.00 damage. This a very good product which I recommend to everyone. The initial cost of purchase and installation is a bit pricey (depending on your plumber) but, worth every penny and the beautiful part is there is no maintenance. Thank you. I'm so glad I found your product." – Michael S., Saskatchewan
"I installed the water-powered HB-1000 pump and expected when the pump was on, it would be loud. But the first time the water was turned on and the water in the sump lifted the float I actually got very worried because it was quiet and I didn't think it worked. Then, I noticed the water going down in the sump and had to get closer to the pump to hear it working. I then put batteries into the water alarm so it lets me know when the pump is working. Thanks again for the great and quiet pump" – Philip B., Ohio
"I am absolutely impressed with your Hi & Dry Water-Powered Backup Sump Pump. After at least two frustrating experiences over the years with electric sump pumps that failed when needed the most, resulting in a flooded basement I determined to solve the problem once and for all. I decided to renovate and completely remodel our basement, turning it into a movie room & entertainment center (Man Cave). I held off doing the remodeling until I could find a solution that would ensure that the basement would not flood again. Your Hi & Dry HB-1000 Sump Pump was the answer! I installed the unit myself without any issues. Well, guess what? It's been raining cats and dogs for several hours and I am sitting here in the dark, writing this email by flashlight, because we are without power. I can't begin to describe how wonderful it is to hear the valve on the Hi & Dry Pump activate and hearing the water run, knowing that it is draining the sump crock and keeping my basement from flooding. I have been fortunate in that we have not needed the unit until tonight, which means it has sat dormant and been inactive for 3 years. The extraordinarily good news is – it was there when we needed it! Congratulations on an exceptional product! I highly encourage anyone who is facing a similar situation to spend the money, buy it and install it. This is one product that is a bargain at twice the price. No Joke!" – Chaz B., NY
"One year our sump pump failed when we were on vacation. This resulted in 12" of water in our finished basement. Then we installed a backup pump with a battery power source. It worked fine until we had an extended power outage. My wife and I had to carry water in buckets up one flight of stairs for two hours. That's hard work when you're over 70 years old. I told my wife, I wish we could find a way to pump water from the sump pit without needing power. I thought that was wishful thinking. Well my wish came true. I found a water-powered back-up sump pump on the Internet – the HB-1000 by RadonSeal. We purchased one and had it installed. It worked GREAT and only requires city water to operate. The other features that enticed us to buy this pump was that only the suction pipe and ball float is located in the sump pit. This lets room to service the primary sump pump.
The RadonSeal HB-1000 water-powered backup sump pump worked perfect when we tried it. The pump will be a stress relieving asset for our defense against flooding. We only wish we would have had this pump five years ago. Thanks RandonSeal for your fine products." – John A., PA
Model: Hi & Dry Water Powered Backup Sump Pump CB-1500
"I had a plumber install the CB-1500. with easy install kit. It was really quick, he loved it! And after having it for a few months, so do I. It works great and is very quiet. Attaching couple pictures of the installation. Thanks." – Bob L., IL
See Customers's feedback and tips on using RadonSeal Products