Professional Paint Stripper for Concrete or Brick
---
Selecting the Best Paint Remover
Removing paints, adhesives, and mastics can a daunting task for homeowners and professional contractors alike. It can turn a rather simple do-it-yourself project into a nightmare. To make matters worse, paint removers sold in stores are often ineffective and difficult to use, particularly on heavy paints used on concrete and masonry.
Our contractors have searched far and wide for a concrete paint stripper that is:
Effective on the whole range of paints found on concrete, bricks, and masonry.
Strong enough to remove multiple layers of paint, including primers, at once.
Effective on hard-to-remove adhesives and mastics.
Easy to apply.
Suitable for both floors and walls.
We have selected Lightning Strip Paint and Mastic Remover. It removes all paints and adhesives. It also cleans the pores in concrete surfaces, allowing subsequent sealing of the concrete with our penetrating sealers.
When tested against other strippers on the market, Lightning Strip comes out as the #1 paint remover for concrete because compared to other strippers, it works fast. It penetrates through multiple layers of paint and its slow evaporation allows it to strip large areas at once. Unlike many other strippers,it leaves no chalky residue on the surface and is easily neutralized with water.
Lightning Strip has small molecules that penetrate through the paint and make it rapidly swell and expand. As the bottom layer of the paint expands, it weakens the paint's adhesion, separates it from the substrate, and makes removal with stripping tools easy.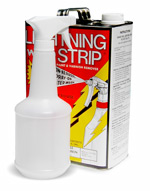 ---
Price and Shipping
Not sold in stores but delivered directly from the factory to your door. Orders received by 1 PM ET are normally shipped the same day and delivered by courier (UPS) within 2 to 5 workdays.
Lightning Strip Paint & Mastic Remover
Size
Price
Shipping
1-gal. can with a sprayer
$44
$17
Order Now
1 case with four 1-gal. cans and 4 sprayers
$159
$48
Based on shipping by courier to the lower 48 states. For expedited shipping or
shipping to other states and Canada, please inquire first by e-mail or telephone.
Lightning Strip is more cost-effective than the conventional brush-on paint strippers sold in stores because it a) works and b) strips an area about twice as large per gallon:
Approximate Coverage
(sq. ft. per gallon)
paint 1–2 layers
150
paint 2–4 layers
75
mastic
75
Customers' feedback and tips on Concrete Cleaners
---
Uses of the Stripper
Lightning Strip is so versatile that it can be used to remove a variety of paints, adhesives, and contaminants from many different substrates, including concrete, bricks, and stones. It is also great for stripping wood and furniture. (It is labeled as a stripper for wood, its most frequent use.)
Paints:

Lightning Strip removes both water-based and oil-bases paints, latex, acrylic, epoxies, urethanes, lead paint, enamel, primers, stains, varnish, shellacs, and graffiti, be it one or six coats. It gels on contact and clings to vertical surfaces.
It also strips the widely sold "waterproofing paint" for basements, which is a latex-based paint. But it does not remove silicon-based sealers (silicones, silanes, siloxanes), cementitious coatings, and metal paints.
Floor adhesives and mastics:

Easily removes water- or oil-based adhesives, as well as the thick, tar-like mastic under old asbestos or vinyl tiles.
Tar and asphalt:

Dissolves black tar. Re-spray to keep the tar moist until it turns to liquid. Then, blast off with a pressure washer.
Lightning Strip is suitable for both indoor and outdoor applications.
Read Customers' feedback and tips on Cleaning Concrete
---
The User-Friendly Paint Stripper
Non-aerosol spray-on stripper – applied with a hand-held squeeze sprayer (included) instead of a brush.
Like with all industrial-strength strippers, good ventilation is required. Lightning Strip contains methylene chloride. It is nonflammable but extinguish all open flames. Unlike other paint strippers, it does not contain caustic, lye or acids. Will not harm wood, aluminum, chrome, metal, or glass.
Low VOCs (volatile organic compounds) ... 249 g/l or 24.9% w/v. Complies with California VOC Standards for paint removers (Section 94509 as of 1/1/2005) which is 50% w/v.
The stripper residue is cleaned up and neutralized with water instead of chemicals. If you have a good pressure washer, it will make the removal of paint residue fast and easy.
STRONGLY RECOMMENDED:
Lightning Strip does not work like common strippers! Make sure to read Paint Stripper Application Instructions for detailed instructions, applications tips, and to view a demonstration video. We suggest that you first get a gallon of the stripper to test how well it works and what coverage you get for your paint or adhesive.
---
Effective and Safe
First, wire brush, scrape or pressure wash off excessive deposits, loose adhesives or paint.
Properly dilute the Universal Cleaner and apply in a thick layer on the floor with a sprayer or just pour out and spread with a broom or roller. Grime and dirt will usually soften or liquefy within minutes. It helps to scrub stubborn spots with a stiff brush to to make the cleaner penetrate deeper.
Graffiti removal: Use Universal Cleaner in concentrated form. An eco-friendly solution that replaces hazardous chemical solvents. Used by graffiti removal professionals.
This concrete cleaner is even effective on latex-based paints and adhesives, as well as water-based acrylic paints. Great for removing paint over-spray from floors. But it is not effective on oil-based paints or mastics, epoxies or tar/asphalt waterproofing (use Lightning Strip Paint & Mastic Remover).
Since the cleaner has to be allowed to sit on the painted surface, it works best on floors or slabs. Tougher jobs will the help of a pressure washer.
Keep the surface moist! If it is hot or windy or it is taking long, apply more cleaner to keep the surface moist so that the cleaner can continue to work. If cleaning an uneven slab, push the cleaner to higher areas. Heavier paint may need couple hours to soften. For tougher jobs, cover the cleaner with a plastic sheet to stop evaporation and let it work overnight.
If there is remnants of vinyl floor backing, scrape it all off with a razor scraper after the adhesive has softened.
Thoroughly pressure wash or repeatedly rinse the surface to clean the surface and remove any residue of the cleaner from inside the concrete. (The cleaner residue would remove any newly applied paint or adhesive.)
---
Commercial Topics
Returns: Unopened product in salable condition can be returned within 30 days of receipt for a refund of the product price less a 15 percent re-stocking fee. The purchaser is responsible for shipping. The return must be marked "CONSUMER COMMODITY ORM-D" and with your name and address.
Disclaimer: Read the product label, instructions and MSDS prior to use. The purchaser shall determine the suitability of this product for the intended use or varied methods of application. We do not provide any warranties regarding the suitability of the product and shall not be liable for any injury, loss, direct or indirect, or consequential damages arising out of the use of this product. In any case, our liability is limited to the cost of the product. Test the product on a sample area first!